Chris S. runs Tomorrow Taipei, a sustainable fashion brand
Tomorrow Taipei is a student-run sustainable fashion brand founded by Chris Sheng ('24, he/him). Chris sells items such as t-shirts, hoodies, and sweatshirts through his website. By running his business online, Tomorrow Taipei is able to reach an international audience and can easily promote the clothing line. 
Chris started his business during the summer of 2021, in the midst of the COVID-19 outbreak. He was prompted to start a clothing line because of h4is interest in business and his concern about the negative impact of fast fashion on the environment. 
Through his sustainable fashion business, Chris wanted to make the biggest impact possible by prioritizing the environment before revenue. The fashion industry often produces clothes made of synthetic fibers that are not biodegradable and are destructive to the environment. According to Chris, Tomorrow Taipei uses 100% cotton approved by the Global Organic Textile Standard (GOTS) which also reduces water consumption by 243 liters per garment. This reduction in water usage contributes to the conservation of resources, especially in the face of clothing manufacturers' significant consumption of water. Chris added that the use of cotton also reduces carbon emissions and prevents around 1.7 grams of microplastic from entering the ocean. 
The process of creating the business was not easy for Chris, as he had to undertake many steps and effectively execute his plans to ensure the success of his business. Before launching his business, Chris first had to build a website, hire the right designers and find the right manufacturing companies. "Since I was going to be an online business, my website is basically [my] brand name," Chris said. "It [also] took a long time to figure out which manufacturers are actually sustainable and supporting the social fashion message." 
Throughout the entire process, it was crucial for Chris to keep the message of sustainability in mind, ensuring that he found the right materials and selected the most environmentally friendly manufacturing company. In addition to that, Chris also had to coordinate with the shipping companies and market his clothing line through platforms such as Facebook. 
Chris was able to break even, which is when the revenue an individual is generating in their business is equal to the investments they have put in. 
Customers also expressed their appreciation for Tomorrow Taipei's commitment to sustainability. " I really like the values that he is promoting and I think that the style and designs of the clothes are also really cool," Will Hsu ('24) said. "I think Tomorrow Taipei's clothing is unique in its style and has great quality," said Simon R ('24'), one of Chris' first customers who has supported him along this journey. 
Even though it would be difficult to shift the business to the United States after Chris graduates, he hopes to spread the message of sustainability in his social entrepreneurship ventures in the future."That idea still stays there, the idea of sustainability, incorporated with business," Chris said. 
Leave a Comment
About the Contributor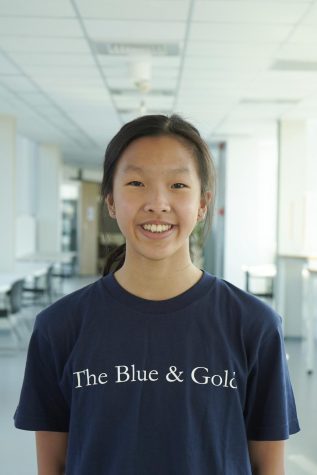 Aina C. ('26), Staff Writer
Aina is a staff writer for the Blue & Gold. She has been attending TAS for the past four years and is looking forward to making new friends in high...