"Better eggs, better lives:" TAS Film explores cage-free eggs
Upper school students in Honors Film 3 and 4 classes at Taipei American School have finished their documentary project regarding the promotion of cage-free eggs after eight months of hard work. The film crew worked for the European Chamber of Commerce and the Environment & Animal Society of Taiwan (EAST), which connects to Carrefour, a company that pledged to switch to cage-free eggs by 2025.
This project was proposed by Nicole Y. ('23, she/her), the director of this cage-free documentary. Last summer, she interned at the European Chamber of Commerce and was introduced to environmental issues in Taiwan. Hoping to help spread awareness for these issues, Nicole worked out a documentary idea to connect the TAS film community and Taiwanese sustainability organizations. Thus, the project for a cage-free eggs documentary was proposed.
Film teachers were excited about the many opportunities film students can experience and the lessons that go along with this professional experience.
"What ultimately inspired us is getting students involved in something outside of the school, where they're using their skills to communicate and interact with adults," Mr. Brett Barrus (he/him), the film production coordinator said. "I think anytime you can provide an educational experience like that, we're all for it."
The process of the documentary was long and difficult, requiring months of hard work. The team first immersed themselves in the research for this project by speaking with researchers from EAST and interviewing the corporate sustainability director of Carrefour. "Just to paint the picture of what is cage-free movement. Why is it important and why should we care?" Mr. Barrus said.
After establishing the connections and learning about the issue, the team started practicing filming skills, such as perfecting professional video lighting for interviews. Additionally, they also practiced cinematography and created a vision for the film, particularly focusing on finding the right music, lining up the shots and finding inspiration for the film. Students also had to adapt to effectively communicating with their clients for feedback. "It was a lot of negotiating with the clients to try and meet their demands and incorporate their feedback into the video," Nicole said.
To obtain authentic clips and videos, the team traveled to cage-free chicken farms in Changhua on Nov. 3. At Changhua, the team captured videos and pictures for their documentary. Students also interviewed the head farmer for additional perspectives on this project.
The final stage of the project is the official screening of the documentary for the clients, Carrefour and EAST. On March 29, the team presented their finalized documentary to the clients in the 2023 Animal Welfare and Food Transition Forum.
The film team also held a screening event in the Guy Lott, Jr. Auditorium during flex on Apr. 17, where students, teachers, parents and clients were invited to enjoy the five-minute documentary. For an opening speech, Nicole briefly spoke about her journey with the documentary and her gratitude for this project. After watching the documentary, Nicole invited three guest clients from Carrefour, EAST, and the European Chamber of Commerce for a short speech on sustainability and the cage-free movement.
Not only did the team successfully finish the documentary dedicated to the cage-free movement for their clients, but the team is also moving towards activism in TAS' food services. Nicole, along with other film editors, met with the food services department and presented their findings by showcasing the documentary and communicating their experience seeing the chickens in battery cages in comparison with chickens that were not in battery cages.
Food services were very receptive to this idea and are reaching out to EAST to explore the possibility of bringing cage-free eggs to TAS' cafeterias.
"That's a pretty meaningful process from start to finish," Mr. Barrus said. "If you ask me as an educator, I don't think you could draw it up any better than to get involved with an issue that's in your community, and go out and execute your vision and then use that information to move into advocating. I think it adheres to our values very well."
Ultimately, this documentary allowed students to experience the film industry in a more professional manner while learning and building skills in communication, teamwork and filming.
"I think this project just gets them thinking about the possibilities with film, that it's not just about creating this end product, that's a beautiful cinematic thing," Mr. Adrian Town (he/him), the upper school film teacher, said. "There's activism and advocacy for greater change as well."
Leave a Comment
About the Contributor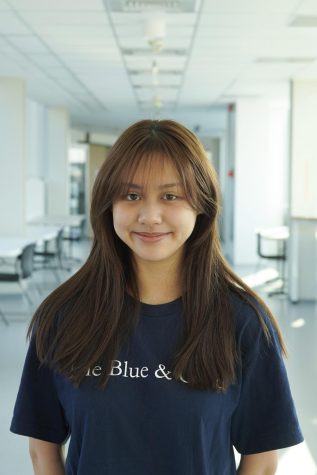 Abby C. ('24), Director of Social Media
Abby is the social media director of The Blue & Gold. She has lived in Taiwan most of her life and enjoys traveling, music, reading and playing with...