Sports recruits: Justice B. ('23)
Collegiate athletes attending school in the U.S. participate in the National Collegiate Athletics Association (NCAA) in Divisions I, II or III. Schools in the NCAA are divided into divisions by their school size and budget. Division I and II schools have bigger campuses and larger budgets while Division III schools are slightly smaller.
Justice B. ('23, he/him) started swimming more competitively when he was 12 and was the captain of the varsity team, which won gold at IASAS. He has committed to swim Division III at Claremont McKenna College (CMC).
Early on, Justice decided to start the recruiting process since he realized that he could use this as an extra advantage in the already-competitive college admissions process, and he did not have as many opportunities to pursue other extracurriculars with swim training taking up most of his time. "After sophomore year, the NCAA eligibility portal opens up, and that's when you can start registering and filling out college questionnaires for [colleges] to start contacting you and emailing back and forth," Justice said. "Then it's talking to the coaches over email for a year or a year and a half before we finally commit somewhere."
Despite knowing he faced a different college admissions process compared to most of his peers, Justice reflects that he has put in a lot of work to reach such a high level, having to sleep at 8 p.m. and wake up at 4 a.m. for morning practices before going to school. "I wanted the work I put in behind the scenes to be able to pay off eventually," he said.
As someone who has previously lived in California, Justice is happy that Claremont Mckenna will be in a somewhat familiar setting. Additionally, the college ranks highly in what he plans to study, and he's had family and friends that have graduated from there. "My parents have a good network to work with and already know a lot about that school," Justice said. "We really like what we've heard about it."
Justice plans to balance swimming competitively with academics, hoping to make big regional meets. He also plans to take advantage of the flexible college life schedule to keep up his music skills with guitar and drums. "I feel like college is a lot more freeing because you can wake up later and have more time to do what you need," he said.
Being in Taiwan, Justice feels the swimming clubs here have similar weekly training schedules with college-level swimming, a refreshing change from his old club team in the U.S., which reflected the weekly schedule of a professional swimmer, as he trained with multiple-time Junior World Champion Luca Urlando. Here, he can work on dryland stretching and aspects of physical health outside of the pool that will be useful for college-level swimming.
Despite the elite level and time commitment that comes with college-level swimming, his family does not want it to be a big source of stress. As such, he plans to continue swimming for personal enjoyment and fitness while working on improvement, knowing he has his family's support. "I know if I can keep improving to get to an elite level, that's good, but if I feel like I can't improve anymore, it's okay," he said.
Going forward, Justice hopes aspiring student-athletes know what they have to consider when starting the college recruiting process. "The world is really big, so the talent pool is going to be really big," Justice said. "Just because you're IASAS champion or something, that doesn't necessarily guarantee that you're going to get in. Just keep working hard, and then you can expect to see results."
Leave a Comment
About the Contributor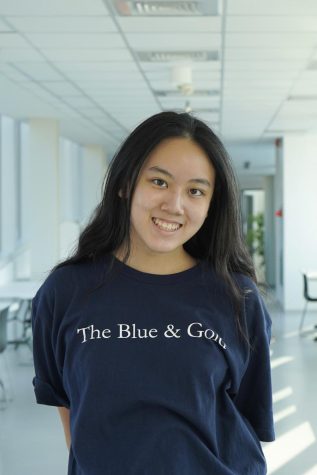 Ariel L. ('23), Print Managing Editor
Ariel is the Blue & Gold's Managing Editor of Print. She has lived in Taiwan for most of her life and spends her free time reading, sewing and watching...