Is TAS gay friendly?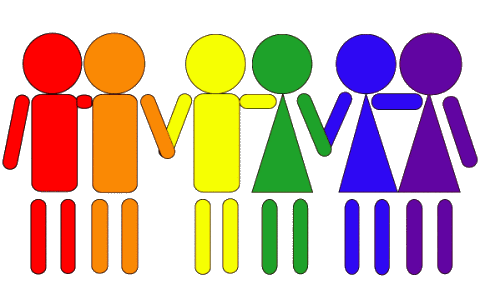 Walking along the corridors of TAS, there's virtually no resemblance to a typical high school movie scene and no, it's not just because the teachers are friendly and that we don't have a football team.
It's because of how we deal with sexual orientation.
This year, the entire high school was assigned a summer reading, The Laramie Project, which is a play based on a series of interviews with people in a small town in Wyoming, where an openly gay student, Matthew Shephard, was beaten and murdered in 1998.
This play came as a surprise for many students at Taipei American School. "Gay-hate crime" is a new concept for many students, virtually unheard of in Taiwan. And yet, it's hard to form a strong opinion here in Taipei. It's not that this issue is not prominent in the world todayinstead, in our little corner of the universe it's simply not been something people get up in arms about.
Justin C, an actor in the Laramie Project believes that "the Laramie Project is a production that can really impact our community. Because it is verbatim theater, the audience will see true reflections of the thoughts or opinions they may share with characters in the play."
While there are those who do judge others based on homophobic values, they are the ones targeted by the majority of students. In this school, "homophobic" is a worse insult than "gay".
The lack of a LGBTQ support group, or a Gay-Straight Alliance is not a result of apathy, but an indication of how little conflict there is between people of different orientations.
Anjoli G. takes a soft approach when tackling the issue of offensive slurs. "It is more important now than ever that we try to understand that sometimes people don't know what they're saying, and that's okay. It's okay as long as we try to help each other change and be better".
Nevertheless, homophobic slurs still frequently pollute student conversations. Phrases like "You faggot!" or "You're so gay" are commonly used in banter or jest. While these expressions are almost never used with hateful intent, they are thrown around thoughtlessly. It's important to keep in mind, this is an issue of ignorance, not hate. It's also important to think about the impact on gay and lesbian students who might be nearby.
The reason The Laramie Project was compulsory reading for all Upper School students was to teach students about tolerance. However, "tolerance" is the wrong word to be using here.
"You tolerate mosquitoes, you tolerate Taiwanese humidity, you tolerate people chewing excessively loudly with their mouth open at the cafeteria table next to you. Acceptance is taking the extra step to recognize someone as an equal part of the society you live in – someone who deserves the same claim to happiness you have," argues Georgia H.
In an ideal world, "Gay" and "Straight" would simply be adjectives like "blonde" or "tall". Instead of a world of tolerance, I'd rather see a world where the concept of coming out of the closet no longer exists.
Not because gays have disappeared, but because the closet has.
-Juliana C. & Vivian L.
Leave a Comment