Rwandan genocide: 20 years on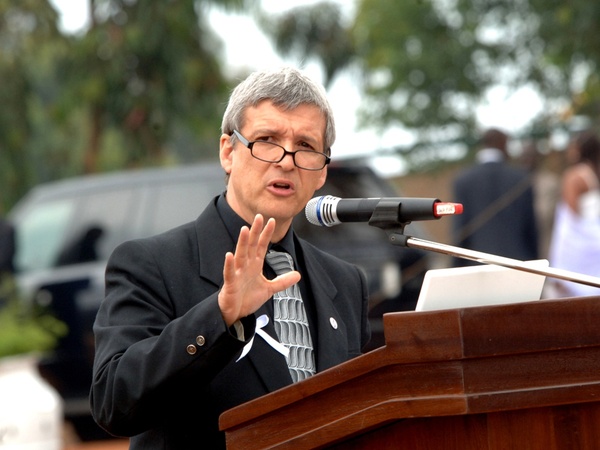 Carl Wilkens, a missionary and former head of ADRA (Adventist Development and Relief Agency International), was the only American to stay behind during the Rwandan Genocide in 1994.
Amidst scenes of mounting horror, the UN troops pulled out, the US Embassy evacuated all its citizens, and his family ?his wife and three children? left for Burundi.
"For a while, when people ask me why I chose to stay, I would try to go into some detail about a Tutsi young lady and a Tutsi young man who worked for me," Wilkens told Blue and Gold last month. "They were the faces of the victims of the genocide representing Rwanda, and I felt if I left, they were going to be killed. I wanted to save them."
Carl Wilkens ventured out into streets that crackled with mortars and gunfire just so he could bring food, water, and medicine to groups of orphans trapped in Kigali, the capital city he called home. With Gisimba Orphanage, Wilkens negotiated with the Prime Minister ?who was a key player and orchestrator of the genocide? and saved the lives of about 400 people.
"It is hard to believe that sometimes you find allies where you would never expect," Carl Wilkens said. "The genocide reminds me that each of us has the potential for evil and the potential for good. It reminds me that one person can make a difference." With the help of the Prime Minister, the orphanage was protected by officers and later relocated to a safer village.
Carl Wilkens will never forget the genocide. "I'm thankful that people remember the genocide 20 years later because there are people in Rwanda who will never forget it," said Carl Wilkens. "We need to have a connection and the 'ability to respond' to crises like this."
This year, Carl Wilkens was invited to TAS during the TASMUN Conference in April. He spoke to the Upper School student body, as well as history, psychology and political science classes. His two week visit was sponsored by the school and the Friends of TAS.
Today, Carl Wilkens tours the US and all over the world to speak to students, teachers, and parents about his experiences in Rwanda. He also runs a non-profit educational organization with his wife called "World Outside My Shoes" that aims to equip people to fight genocide, racism, and intolerance.
To  Carl Wilkens, the concept of "us and them" is a formula for disaster. The genocide was a reminder that we need to live for each other and accept the "other", whether that be people in your class, or people on the other side of the globe.
Leave a Comment