5 DIY Hearty and Healthy Salads
I like food. A lot. Anyone who has ever sat with or near me in the cafeteria can attest to this fact. But lately, I've been trying to be more healthy, which means no more mindlessly vacuuming up any and all food within a five mile radius. But just because I'm trying to eat healthy doesn't mean I can't eat well!
With its wide variety of ingredients, the school salad bar has become a bit of a haven for me. I can eat there every day, but still get a completely different meal every day of the week. Here are five salad recipes that are delicious and also super easy to make. All the ingredients featured below can be found in our school's salad bar, so get cooking!
Christmas on a Plate: The holiday season may be over, but it doesn't mean your taste buds need  stop celebrating! Hump day blues? Munch on this crisp and sharply flavored salad for a nice pick me up/
Ingredients: Romaine lettuce, carrot strips, chickpeas, watercress, raisins, red beets, vinaigrette or ranch dressing
Asian Chicken Salad: Here's a nice blend of Asian-Western culture to fit your third culture kid needs. This salad tastes a bit like Panda Express, minus all the waistline expanding calories.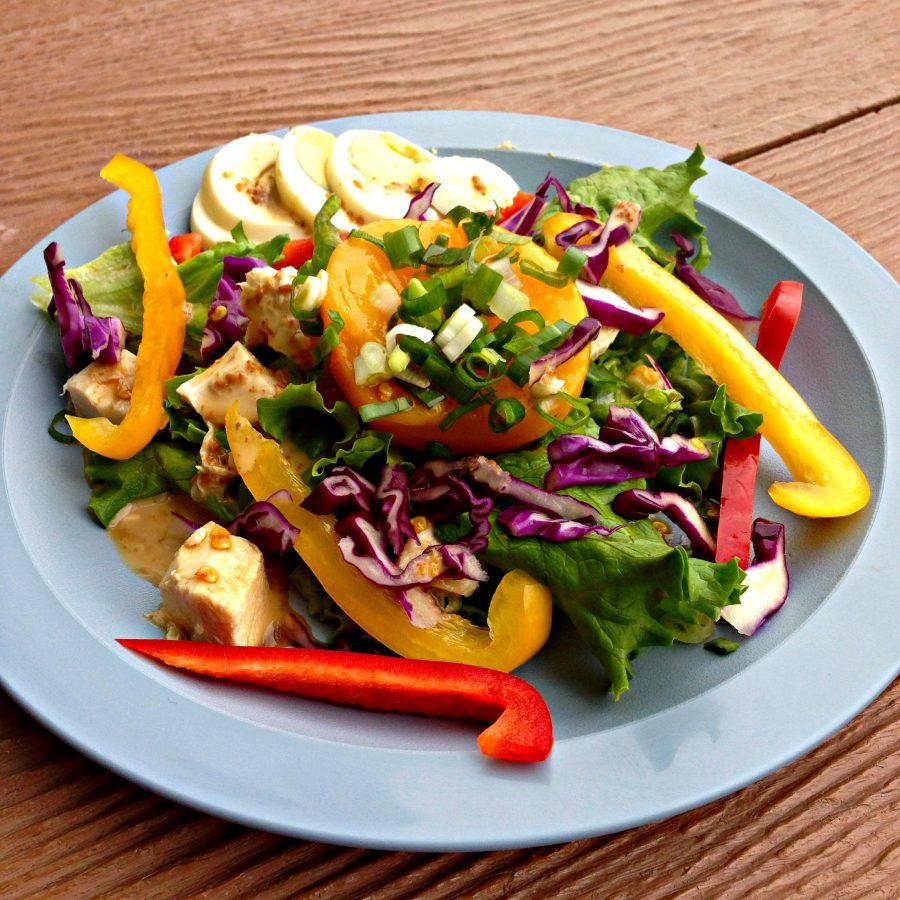 Ingredients: Romaine lettuce, chicken, canned peaches, bell pepper slices, purple cabbage, chopped green onion, egg slices, sesame sauce dressing, soy sauce
Chili Quinoa Bowl: Filling but also refreshing, this salad is great for when you're craving a burrito bowl but need to grab something healthier. Quinoa is currently being hailed as a superfood and for good reason too! All you do is dump all the ingredients in a bowl, mix it around, and you have a healthy and hearty lunch for the day. I grabbed a bowl from the Fitness Cafe for mixing ease, but the usual blue plates should work just as well.


Ingredients: Quinoa, chopped green pepper, kidney beans, black beans, chickpeas, corn, chopped broccoli, chili, carrots, chicken
Tomato Chickpea Salad: Okay, we're not rabbits and we can't eat lettuce every day. No worries though, leafy vegetables aren't the only ones that can make a mean salad! This mix features a variety of vegetables and proteins perfect for your taste buds, and your body.


Ingredients: Tomatoes, chickpeas, cucumbers, cheddar cheese, season with pepper and vinegar, purple bean sprouts, corn
Bean and Tuna Salad: If you're trying to bulk up at the gym, make sure to supplement your workouts with this protein-packed meal. This salad features a variety of energy boosting foods sure to help you bulk up. Plus, it's pretty darn tasty.
Ingredients: Iceberg lettuce, tuna, chickpeas, kidney beans, black beans, tomatoes, ham cubes, hard-boiled egg slices, dressing of your choice
Of course, these salads are based off of my own taste buds and preferences.: Chickpeas are my favorite thing in the world, which may explain why they show up in every single recipe above. .Feel free to tweak or modify the above ideas for your own enjoyment. Happy eating!
Leave a Comment