The day of the September 11 attacks doesn't mean anything to me. It was a Wednesday night in Taipei. My three-year-old self had spent a long day embroidering at pre-school and loitering around my mother's office. When Taiwanese channels began broadcasting news of the first hit, I was fast asleep, blissfully ignorant. My mother, who had gone to medical school in Seattle, watched the footage in disbelief, feeling like she was in some sort of bad dream. Meanwhile, a taxi driver in Glasgow, where my father was staying for a business trip, tried to inform my father of what had occurred. But his Scottish accent was far too thick for my dad. He didn't learn of what happened until much later. That's my family's September 11 story. It's uncanny how one day can mean so little to someone, yet change the entire life of another. "[When it happened], I had just moved to New York City a week before for graduate school," says Ms. Sinclair, Upper School Social Studies teacher. "It's strange… I [actually] went with Mr. Lowman, the college counselor, and his brother, who was my best friend, to the World Trade Center a week before it fell. And I did that thing where I pressed my body against the flat surface of the glass in a tall building and just looked up… it was like I was flying; it was surreal. It was just strange [thinking back], that I was there doing that, a week before it happened." For those in the city at the time, the attacks would soon become what Ms. Sinclair calls "the biggest event of [their] lives, whether [they] wanted it to be or not." When the attacks occurred, friends began calling Ms. Sinclair to ask if she had heard about them. It wasn't until she ran upstairs to another dorm room, asked someone to turn on the television, and heard that the second plane had hit that she realized that "this was going to change the world." "And then you start hearing all the sirens," she says. "There's nothing worse than watching TV  and knowing that, hearing these sirens, what you're seeing on TV is also what's happening." Ms. Sinclair's roommate had been interning at Stuyvesant High School, which is 0.5 miles away from where the World Trade Center was. The kids there only had to glance outside the window to witness the collapsing buildings and the heavy smoke. If they looked carefully enough, they could make out tiny figures falling from the tower.
"The principal of the school… the only thing he could do was to open the doors north, and say to the kids: 'Start walking,'" says Ms. Sinclair. "We have fire drills and all these evacuation plans… but imagine if that happened to us. What else could the principal [possibly have done]?" The high schoolers had come from different boroughs of New York, which meant that some of their homes were over ten miles away. Kids banded together and headed to the closest homes without being able to contact their parents. It was the first full day of school. Outside of New York, the impact could still be felt, and in the most profound and heaviest possible ways. Mr. Ives, Upper School Social Studies teacher, worked in Boston at the Massachusetts Institute of Technology at the time. Many had believed that MIT, which was home to both a small nuclear reactor and extensive military research, would be a potential target were there to be an attack on America. "Obviously we were shocked by what was happening in New York," says Mr. Ives. "[But] it was [even scarier] to watch all these things happen and think: might we be next?" Ms. Kundel, Upper School English teacher, was sitting in seventh grade history class when the news arrived. She ended up spending most of the morning watching television in her homeroom. "I… remember being very confused, thinking that it looked like a movie–but a poorly produced one. I remember crying–out of fear more than empathy, which would come much later."
"[On public transportation] people were usually kind of chatty or noisy. That night, everyone was still moving, but they were all like zombies. People walked half as fast as they normally did, cars moved twice as slow. Everything was just kind of quiet. It was really, really eerie."
The aftermath of the incident was an America suspended in some sort of limbo, a lingering atmosphere of disbelief. "The main thing that I remember is from when I was… taking the public bus home that night," says Mr. Ives. "[On public transportation] people were usually kind of chatty or noisy. That night, everyone was still moving, but they were all like zombies. People walked half as fast as they normally did, cars moved twice as slow. Everything was just kind of quiet. It was really, really eerie." Then, collective grief struck. "People would put up posters around the city that would say… 'So and so is missing,' or 'Please help us find so and so'… and you would just know that they were dead. It was like looking at pictures of ghosts," says Ms. Sinclair. Nobody dared to take the posters down, and only about a year later, when the glue or tape wore away, did the pictures fall.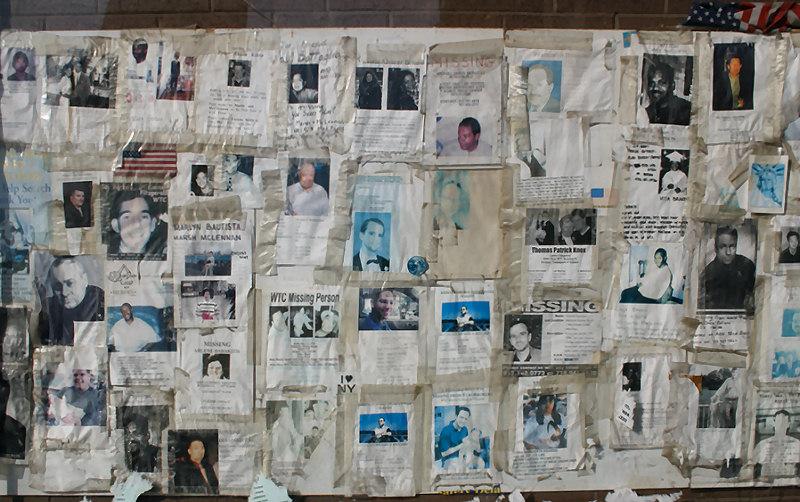 No one wanted to be alone during those times. People crowded restaurants, cafes… wherever other people could be found. But for over a month after the incident, even the most people-filled places could seem dead. "When you went to a restaurant, and you happened to laugh at something," says Ms. Sinclair, "it felt like laughing at a funeral." Sometimes, people were spotted crying on the streets. And everybody would just know why. Candles were lit, vigils were held. The faces of firefighters, employees, and tourists were plastered onto funeral portraits. Memorials were built, tears were shed. It's hard to say what America has gotten out of the September 11 attacks. Of course, there's the renewed appreciation of the fact that you're alive. "My wife, who is from New Jersey, was home visiting her parents and was supposed to be on one of the flights that went down that day," says Mr. Ives. "At the last minute, the day before, she changed her flight plan. So, whenever things about 9/11 come up, it's a very pointed reminder of
–wow, how lucky we are… that she didn't get on that plane, and that she's here today." The national tragedy also stirred up unity. "[The night of the attack], if you [went] on the street, you'd just see people standing by street corners holding candles," says Ms. Sinclair. "It was just a spontaneous vigil. People would start singing songs like God Bless America, Let There be Peace on Earth, The Star-Spangled Banner, and just any song they could think of that sounded patriotic." When it comes down to it, if I were forced to define September 11, I would say that it was a tragic outcome of intolerance. To me, it means fruitless violence. It means wasted lives. "September 11, for me, does not make me feel patriotic, proud to be American, or want to sing country music about Osama bin Laden," says Ms. Kundel. "It does, however, make me want to sit and think about intolerance, hatred, and religious discrimination around the world. It makes me want to think about how we can stand to live in a world that allows for anyone, including Americans, to incite violence against people who think differently, act differently or simply are different."
Then and today, Americans are not free of the same vices 9/11 represents. Even as a response to the incident, many blew things out of proportion. And of course, the tendency to generalize emerged, as people began blaming all Muslims or those from the Middle East for a single terrorist group's acts. "I remember feeling really bad for the students from the Middle East at our school," says Ms. Han, Upper School counselor, who was a senior at a New Jersey high school. "I've heard about schools where they were bullied, teased… people would write stuff on their lockers, like 'Go back to your own country.'" In 2011, ten whole years after the incident, David Osama Haddad, a 17-year-old boy of Jordanian descent in Indiana, suffered a brain injury from a beating. According to the Chicago Sun-Times, his parents say that the bullying was consistently tied to his Middle Eastern heritage. Haddad was often called a "terrorist," and students taunted him when Osama bin Laden and Muammar Gaddafi were killed. Some even spread a rumor that Gaddafi was Haddad's uncle. To be honest, I'm never quite sure what conclusions we can draw from all of this. But there is one thing I'm certain of. What people are put through for things they cannot help–that needs to stop. To reach the end of this long-winded article will already say something about you–that perhaps, in light of all that has happened, you're willing to spend some time to contemplate all of 9/11's implications. And that perhaps, you care. But when you think about 9/11, beyond offering respect to the victims, beyond disparaging terrorism and violence… Think of tolerance. Think of acceptance. Examine your own values, and those of others around you. And please, seriously weigh them out without being narrow-minded. Because overcoming bigotry and prejudice requires tolerance and acceptance. Because the end to all of this needless suffering begins with each and every one of you.