The Phenomenon of Instagram Groups at TAS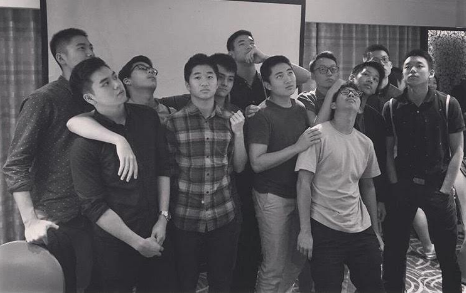 Instagram group accounts have become more and more common at TAS. Whether students wish to present their team chemistry or make a joint account to show their closeness, comical Instagram accounts are a way for students to entertain their peers. Some of the most notable groups are: Paumandi, Sadboisoftasvball, Sadgurlzoftasvball, Team Dinun, wet_girls_of_taipei and wet_boys_of_taipei.
This year, the varsity volleyball boys created "sadboisoftasvball" an Instagram account managed by team members Daniel Wang (11) and Julian Lee (11). Although it may seem like the account was randomly created out of the blue, there is actually a history behind the account's name.
Prior to creating the Instagram account, the volleyball boys used to have a group chat named "baeless." However, Daniel says, "[the title] is not consistent [within the group]…so on the bus to pre-IASAS we decided to change it to the 'sadbois' because we are all sad but we aren't all baeless." Julian says, "We wanted to chronicle the journey of the sadbois."  
But what makes the 'sadbois' sad?  According to Julian and Daniel, the 'sadbois' are sad due to relationship issues or rejection by a girl after multiple attempts of courting. Ultimately, Julian says "there were different tears" based on how bad the situation was.  Daniel ended the interview with an inspiring quote for all the Instagram followers: "there is nothing wrong with being sad." 
Relationship and rejection issues are not the only thing the "sadbois" have to deal with. The volleyball girls made "sadgurlzoftasvball", a parody account of the "sadboisoftasvball". For a while, the managers of the "sadboisoftasvball" account opposed the "sadgurlzoftasvball" account.  "They scammed us and they're unoriginal…we started Instagram beef," says Julian.  But in the end, the 'sadbois' still got the 'sadgurlz' backs, according to Daniel.
The "sadgurlzoftasvball" account was created quickly after the boy's account. When interviewed, the 'sadbois' thought that the girls were just copying them in an attempt to be "cool like them."
However, that is not true. Vanessa Su (10), Charlotte Lee (9), and Stephanie Wang (10) are the masterminds behind this parody account and they have a different reason than what the guys thought.  Vanessa says, "We did it as a joke and to make fun of the sadbois because we thought [the 'sadbois' account] was very stupid."
After a few days of mocking the guys, these three managers realized they were actually 'sadgurlz' as they did not make the cut for IASAS volleyball. The 'sadgurlz' decided to "embrace their reality," and Vanessa even suggested that "maybe [they] should be called salty girls." For those not familiar with the term "salty," it means upset or bitter according to Urban Dictionary. Of course, in a situation like this, a bit of bitterness is inevitable and understandable.
Leave a Comment