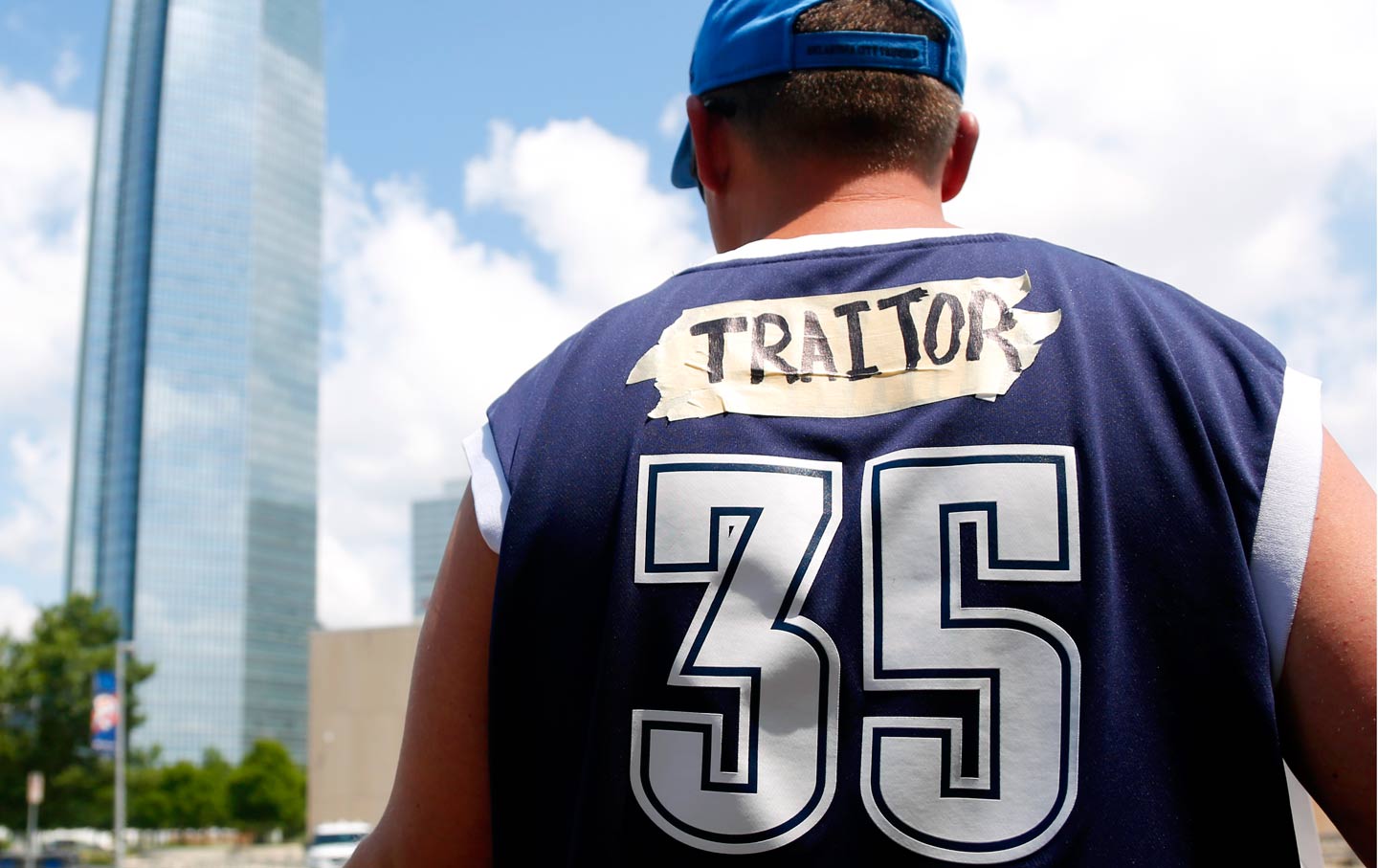 For modern day sports fanatics, following a team is far more than just a hobby—it has become an integral part of their identity. Fans become emotionally connected to a team and its players, making the recent betrayal of Kevin Durant all the more dishonorable.
In May of last season, the Golden State Warriors faced the Oklahoma City Thunder in the Western Conference Finals. The Warriors had already made history during h. Their team is already made up of reigning MVP Stephen Curry, all-stars Draymond Green and Klay Thompson, and former all-star Andre Iguodala. Frankly, the Warriors were a superteam. The Thunders fought valiantly against the Warriors, but ultimately fell to one of the best teams in NBA history.
However, on July 4th, 2016, following the postseason loss, he made a decision that shocked the world: He signed with the Golden State Warriors. Out of the 30 NBA teams to choose from, Durant chose the team that he was eliminated by just 2 months ago. Thus, the newest villain of the NBA was born. As expected, this signing led to Twitter bursting with surprised reactions, his jerseys burnt by fans, and the newest buzz for sports critics worldwide.
The signing mirrored Lebron James' move back in 2010, when he announced that he would join the Miami Heat after playing for his hometown team, the Cleveland Cavaliers, for seven seasons. Immediately following the decision, James was villainized by fans worldwide for all the antics surrounding his highly anticipated decision which was created into a televised segment by ESPN.
Durant may not have surrounded his decision with as much drama, but he did something that James would never have: Durant joined the team that he could not beat. In his free agency, Lebron refused to sign with the Boston Celtics, the team that constantly eliminated his Cavs from the playoffs. Durant, on the other hand, decided to join the Golden State Warriors, who had defeated his team in a bitter 2016 Western Conference Finals after being 3-1 down. In an NBA playoff series, the first team to win 4 games advances. Durant and the Thunder were one game away from advancing into the NBA Finals. They were 48 minutes away from eliminating one of the best teams in NBA history in the playoffs. Instead, they lost three games in a row and just like that, their championship aspirations were over.
Stephen A. Smith, an ESPN sports analyst, argued that "the real issue is that Kevin Durant decided to go and join, the team that beat him rather than being hell bent on competing with them once again." Similarly, often dubbed "the greatest player of all time," Michael Jordan, said "There's no way, with hindsight, I would've ever called up Larry [Bird], called up Magic [Johnson] and said, 'Hey, look, let's get together and play on one team.'"
Initially, I agreed with Stephen A. Smith about how leaving was not the issue. The issue was the fact that he Durant's Double-Cross joined the team that beat him. However, after Westbrook resigned with the Thunder despite Durant leaving, this stressed the fact that Durant betrayed Oklahoma City and his team. Westbrook was also there when the Thunder choked away their chance for an NBA finals berth. He could have waited until next season, when his contract ends, to sign with a better team just like Durant did. But he did not.
Don't get me wrong, I understand Durant's desire to to win and I respect the fact that he wants to win. I also understand that the NBA is a business and events like this happen. However, as a competitor and an athlete, I don't understand how he could retain any self-respect after his act of cowardice. The NBA is a platform where the best basketball players are pitted against one another. If every athlete had the same mentality as Durant, there would be no competition, there would be no NBA.
Players like Allen Iverson, Tim Duncan, Reggie Miller, Larry Bird, Julius Erving, and Kobe Bryant stayed loyal to their team throughout their career. When times got tough, when things were not going their way, they continued to push through for their fans and their team. Loyalty is one of the many reasons why these players will be the most respected in NBA history. Kevin Durant has none of that, and his decision shows that he never will.
One word has been cemented in the minds of people around the world about Kevin Durant: traitor.