Bubble tea: not just a drink, but a lifestyle
Bubble tea is a renowned Taiwanese drink invented in the 1980s in Taichung, Taiwan. Chun Shui Tang Teahouse is accredited for the creation of bubble tea, which was originally called "Pearl Milk Tea". The drink has been adopted all over the world and bubble tea chains continue to multiply. However, each chain has their own style and taste. The Blue & Gold reviewed 5 of the most popular bubble tea franchises easily accessible from TAS.
Chun Shui Tang
Review: 5/5
Famous for being the origin of bubble tea, Chun Shui Tang's bubble tea has an overall rich flavour and the perfect combination of milk and tapioca pearls. There's a faint taste of sugar's natural sweetness that can be savoured throughout the drink. Chun Shui Tang states that there are no preservatives in their bubble tea and that the tea is made with saturated fat free creamer. The bubble tea comes in two sizes, small, around 75 nt, and medium, around 140 nt. The staff usually suggest customers to order the larger size because if one can't finish it, they will put it in a to-go cup. Although it's a little pricey, the unique taste from the origin place of bubble tea is definitely worth it. Furthermore, one can order extra pearls (boba) at Chun Shui Tang. If ordered, the staff will give an extra small cup of plain pearls (boba) that you can add by yourself.
50 Lan
Review: 3/5
Like many other bubble tea chains in Taiwan, 50 Lan has more than 100 different permutations and combinations of drinks one can think of. 50 Lan is less known internationally but is still nonetheless a great choice. The smaller bobas are particularly popular at 50 Lan and they are cooked well, although the proportion of the boba to milk tea can sometimes be a bit off. Moreover, the tea flavour isn't as strong in 50 Lan's cup of bubble milk tea and is bit too milky. However, the prices at 50 Lan are very reasonable as the regular size cup is 35 nt and the large size is 50nt.
COMEBUY
Review: 4/5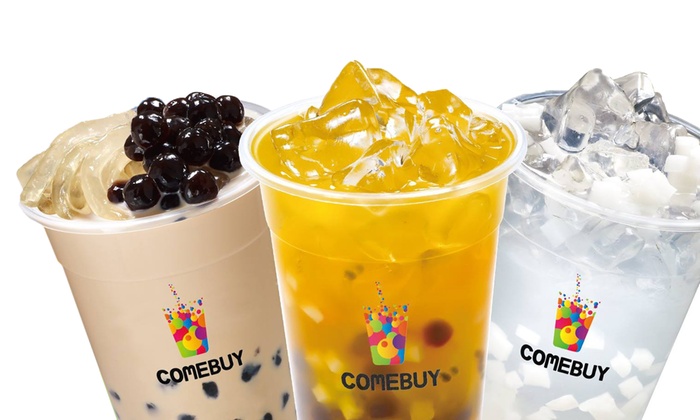 COMEBUY consistently pioneers new drinks with new formulas to offer a diverse selection for customers. COMEBUY uses original leaves to make their tea. However, if you would like fresh milk in your drink, you would have to pay a little extra. COMEBUY also has very chewy tapioca pearls that are of high quality. Their classic Bubble Milk Tea, one of TAS's favorite club sale items, comes in two sizes, medium, 30 nt, and large, 40 nt. "Less ice" is recommended as the drink sometimes becomes diluted due to the large amount of ice that is put in the bubble milk tea. Alongside their classic pearl milk tea, COMEBUY is equally well known for their fruity flavored teas such as the Peach Oolong Tea.
CoCo
Review: 4/5
CoCo has a unique systematic process for developing new products and localizing them. Every season, 30 percent of CoCo's menu will contain newly introduced products and around 10 to 20 percent of the menu will be localized products. While most Taiwanese bubble tea chains are standardized, CoCo maintains a systematized menu every season. CoCo's classic Bubble Milk Tea, also a recent new hit in TAS club sale items, has chewy boba and a huge plus is that the cup size is larger than the average cup size. CoCo only has one cup size and that average cup is around 35 nt. The bubble milk tea tastes better with fresh milk, which, again, you would have to pay a little extra for. It is strongly recommended that the sugar level should be adjusted, especially if the amount of ice is adjusted as well. Without any changes to the ice or sugar level, CoCo's classic Bubble Milk Tea tends to be extremely sweet and a little hard to drink after each sip. Besides its Bubble Milk Tea, CoCo's Passion Fruit Bubble Tea is very popular as well.
Ten Ren
Review: 3/5
Ten Ren was originally famous for its loose tea leaves from traditional Chinese tea selections. The classic Bubble Milk Tea is a top order at Ten Ren as well. Similar to the other bubble tea franchises mentioned, you can also request fresh milk here, with a little extra charge. Although the boba isn't as chewy as CoCo's, it still has a good texture and isn't completely soft and mushy. While the tapioca pearls are ordinary, the flavour of the tea is what makes Ten Ren's Bubble Milk Tea different from other bubble teas. The flavour of the tea is just right and gives the bubble tea its unique flare. Ten Ren's drinks, certainly carry on the name in quality.
Leave a Comment