OPINION | Lamar Jackson: The underappreciated king of the AFC North
On Jan. 6, 2019, the Baltimore Ravens traveled west to face the Los Angeles Chargers, making it their first playoff appearance since 2014. Led by rookie quarterback Lamar Jackson, the Ravens' offense was starting to take off with their solid backfield, experienced receivers and explosive quarterback. However, after the Ravens fell 23-17, fans immediately held Jackson accountable for their season-ending loss. From his low completion percentage to his questionable touchdown-interception ratio, Jackson almost truly seemed responsible for ending the Ravens' season adverb. However, despite the heavy loss, Lamar Jackson is still the best quarterback option for the Ravens, and there is no reason why he should be benched next season.
Jackson shocked the NFL the moment he stepped on field as the starting quarterback. Since his Week 11 debut start, Jackson threw for 1,114 yards, averaging nearly 160 yards per game. While Jackson's passing stats were not incredible, his rushing stats and mobility left the NFL in awe. With 695 total rushing yards, Jackson ran more yards than 82 percent of the rookie running backs this season. Jackson's mobility was such a threat to his opponents that teams, such as the Cleveland Browns and Atlanta Falcons, were constantly forced to keep a QB Spy on him, in fear of Jackson slipping out the pocket for a huge gain.
Despite his impressive yardage, Jackson's completion percentage was terrible. With only 99 completions out of 170 attempts, Jackson hit his receivers 58.2 percent of the time, ranking him 37th in the NFL for completion percentage. His TD-INT ratio was also inconsistent. Since his Week 11 start, Jackson only threw five touchdowns, yet he managed to throw three interceptions.
Jackson received backlash for his inconsistent throws, but fans are quick to forget about Joe Flacco's rocky start of the 2018 season. While Flacco averaged 273.9 passing yards per game, he only completed 61.2 percent of his passes, barely putting him 25th in the NFL for completion percentage. Flacco also had a very similar TD-INT ratio to Jackson. In nine games, Flacco threw 12 touchdowns and six interceptions. Compared to Jackson, Flacco was definitely a more accurate and experienced passer, but without Jackson's mobility, the Ravens' offense was more predictable, thus easier to defend against.
#LamarJackson is trash….@Ravens put #JoeFlacco in if you care about your season….

— Cody Wells (@CWells54) January 6, 2019
Feel so bad for #LamarJackson He's getting chewed out by Ravens fans. I really do think he's a good QB. I expect good things from him. Give him a break Raven fans. #LACvsBAL #NFLPlayoffs

— Ana (@Ana70779125) January 6, 2019

Again, the Baltimore Ravens undisputedly improved under Jackson's lead. The Ravens were only 4-5 with Flacco. After the Ravens' Week 11 bye, Jackson stepped up as the starting quarterback and went 6-1 in the final seven games of the season, clinching the Wild Card spot for the Ravens with a final season record of 10-6. After leading the Ravens to first in the AFC North, Jackson proved to everyone that he is not just any basic rookie quarterback. Three interceptions cannot disprove Jackson's significance to the Ravens' offense, especially to their run game.
Heading into the postseason, the Ravens were a dangerous team. Their defense threatened all types of offenses: They ranked No. 13 in the NFL for least points allowed, No. 9 for least total scrimmage yards allowed and No. 2 for least rushing yards allowed. The new Ravens' rushing dominant offense was also starting to heat up. With a mobile quarterback like Jackson, Marty Mornhinweg, the Ravens' offensive coordinator, became more flexible and creative with their run game.
The Ravens' new rushing strategy was a mix of an inside zone, a zone read and a duo: The entire offensive line pushes left or right, leaving one defensive end responsible for stopping the runner. This made it extremely hard for the defensive end to determine who had the ball between the running back, quarterback, and tight end. Jackson did not just introduce a new passing game–he dominated his opponents with the Ravens' new run game.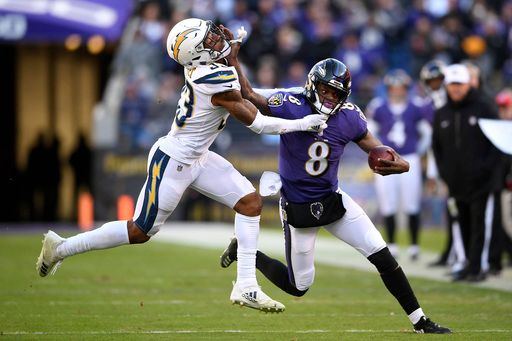 During the Wild Card match up against the Los Angeles Chargers, however, the Ravens' run game fell apart. Gus Edwards and Kenneth Dixon, the Ravens' running backs, combined for a mere 36 rushing yards, while Jackson only ran for 54. With a failing run game, Jackson was forced to throw more into the elite Chargers secondary; the Chargers defense were No. 10 in the NFL for least passing yards allowed. In the first three quarters, Jackson missed a few open throws, but he nearly pulled off a comeback victory in the last quarter with two passing touchdowns.
The most impressive play that demonstrated Jackson's skill was late in the fourth quarter. Jackson looked like Michael Vick as he scrambled away from four linemen, juking one and throwing over his shoulder for a 39-yard pass to Kenneth Dixon. Although the Chargers still won, Jackson proved that he was capable of scoring on tough defenses. For a rookie quarterback in his first playoff game and eighth start in the NFL, Jackson performed well.
There is no better quarterback, free agent market or draft, who is better suited for the Ravens offense than Lamar Jackson.
Ultimately, after the Ravens lost their Wild Card game, Raven fans blamed Jackson for the loss. While Jackson struggled with completing passes, it is undeniable that his impact on the Ravens stretches far–from passing to the running game. Jackson was just a rookie. He has a whole career ahead of him to improve and even learn from Robert Griffin III, another mobile Ravens quarterback. To bench Jackson in the upcoming 2019-2020 season would be a grave mistake. There is no better quarterback, free agent market or draft who is better suited for the Ravens offense than Lamar Jackson.
Leave a Comment