WALK THE TALK | What is sustainable business?
WALK THE TALK || Sustainability. We often encounter this in our day to day lives, from the ongoing discussion of sustainable fashion to the increasing awareness of plastic use in our communities. We have all recognized sustainability's presence in one form or another, however, not a lot of people have come across sustainability in business and how it is practiced. In this article, I will be discussing what sustainable business is and why sustainability is becoming an increasingly important factor in business, and how you can "walk the talk" or take immediate action. 
What is Sustainable Business?
Sustainable business, also known as "green business" is a brand, company or enterprise that focuses its initiatives and goals on causing minimal to zero negative environmental impact on the community, society, as well as the economy. Various sustainable businesses also hold themselves to the standard of meeting the "triple bottom line."
What is the "triple bottom line"? 
The "triple bottom line" is a concept many businesses utilize to quantify and measure the social or environmental impact they make or create. Oftentimes financial performance will also be considered. The triple bottom line consists of three categories, also known as profit, people and the planet. 
Why is the "triple bottom line" important?
The importance of the triple bottom line business concept comes from the effect it has on how innovative companies think. Though the triple bottom line business concept emphasizes "purpose over profit," and in other words too idealistic for the majority of businesses and companies, this is surprisingly not the case for businesses that actually practice sustainable methods. According to NielsenIQ, a retail and consumer data platform that measures shopper behaviors, in 2018, consumers in the United States have changed their consumption habits to reduce the negative environmental impacts. In turn, USD$128.5 billion has been generated from sustainable business sales.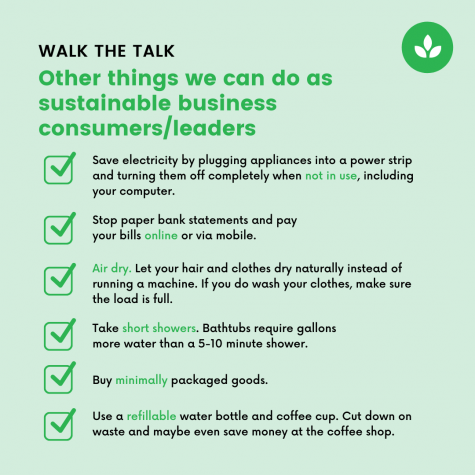 How can you "walk the talk"? 
As a reader, you are already advancing towards the first step in taking action, which means to educate yourself on the role sustainability has in business. Another obvious action to take would be to pay more attention to the brands and companies you are purchasing from and how they are taking part in becoming sustainable. 
If, on the other hand, you are looking to establish a sustainable business or have just begun to employ sustainable business strategies to your organization, here are some initial steps to take. 
It is important to first recognize how much waste a business owner is producing, the impact, both negatively and positively on the environment, your company has on the community. A useful strategy in doing so would be to implement SMART goals, which is also known as the early stages of taking action while beginning to integrate sustainable practices or objectives. The goals are, respectively, specific, measurable, achievable, relevant and timely. 
Though there is not a set standard for how to take action, it is important to keep in mind that sustainability is everywhere around us, and you are empowered to make a difference. 
Leave a Comment