Top 5 cafes near TAS
Dreamers Cafe – ★★★☆☆
No. 67-1號, Tianmu E Rd, Shilin District, Taipei City, 111
Dreamers Cafe is a nine minute walk from Taipei American School (TAS) and opens every day from 7 to 10 p.m. The large open space is popular among TAS students for hanging out with friends and studying. The cafe serves a wide variety of drinks, western-style appetizers such as pastas and soups, and pastries. There are many table options; some by the window, some in a lounge setting. However, the cafe is located in Central Tianmu across from Mitsukoshi and does tend to become a bit noisy at times, so it may be difficult to focus for some people.
Infinity Lounge – ★★★★☆
111, Taipei City, Shilin District, Section 7, Zhongshan N Rd, 48號2樓
The Infinity Lounge cafe is a 10 minute walk from TAS and is located on the second floor. It opens at 12 p.m. on all days except Tuesdays. The Infinity Lounge is a small, moody cafe with darker lighting and furniture pieces, as well as an outdoor balcony seating area. "It's a great place to hangout with your friends and do homework together," Ashley C. ('23, she/her) said.  They have an extensive selection of drinks, including specialty coffees and teas such as the "Espresso con Panna" and "Autumn Picked Hojicha". The food menu contains a few meal options and unique desserts such as the "Drunk Tiramisu" and "Basque Burnt Cheesecake". One of Infinity's distinguishing features is the art pieces that they feature inside their cafe, adding to the elegant, modern atmosphere. 
Parti Cafe – ★★★★★
111, Taipei City, Shilin District, 中山北路六段430號號2樓
Parti Cafe is located near TAS with a walking distance of around six minutes and is a great cafe for relaxing or working on schoolwork. The cafe is on the second floor and is open every day of the week from 11 a.m. to 6 p.m. except for Mondays. The cafe has very warm lighting and incorporates simple aesthetic decorations all over the cafe, including many plants. The menu consists of easy Western meals such as croissants, quesadillas, desserts and drinks. "I usually come here and relax after school," Angelina W. ('24, she/her) said. "The food is really simple and good."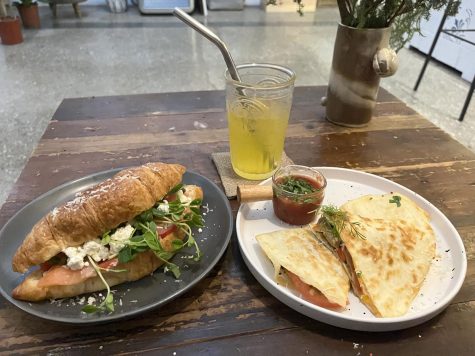 Dorayaki & Coffee – ★★★★☆
111, Taipei City, Shilin District, Shidong Rd, 66號號1F
Dorayaki & Coffee is a small dessert cafe located just seven minutes away from TAS, making it suitable
for students as a quick afternoon snack. Dorayaki & Coffee opens everyday except for Mondays, Tuesdays and Sundays at 2 to 6 p.m. The small cafe offers a variety of tea and coffee, as well as their specialty, dorayaki, which is a Japanese dessert consisting of two small pancakes wrapped around a filling of bean paste. The dorayaki comes in small packs of six, perfect for a quick after school snack. The cafe also allows the customers to choose any flavors they want. Some flavors include red bean, custard and peanut. 
Window Cafe – ★★★★★
111, Taipei City, Shilin District, 中山北路六段476號2樓
Only four minutes away from school, Window Cafe is located up a flight of stairs near the family mart across from Starbucks. It is open from 8 a.m. to 10 p.m. all days of the week. The menu features brunch-style dishes: with breakfast plates and healthier options like salads, there are many great choices. They also have some tasty side options, such as hash browns and sweet potato balls. One wall of the cafe consists entirely of windows, hence the name "Window Cafe," with bar-like seating facing the outside. This area is especially effective for productivity, since there are several outlets along the wall. The windows help to create an open and refreshing ambience, particularly on sunny days. A unique feature of this cafe is that they allow pets to enter and accompany their owners as they enjoy the food and atmosphere.
Leave a Comment
About the Contributors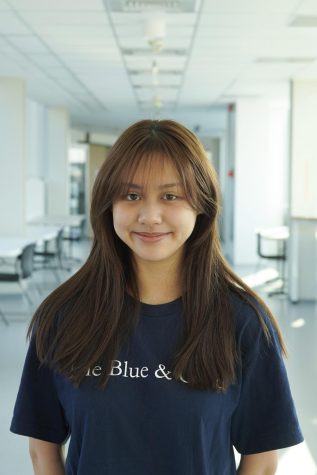 Abby C. ('24), Director of Social Media
Abby is the social media director of The Blue & Gold. She has lived in Taiwan most of her life and enjoys traveling, music, reading and playing with...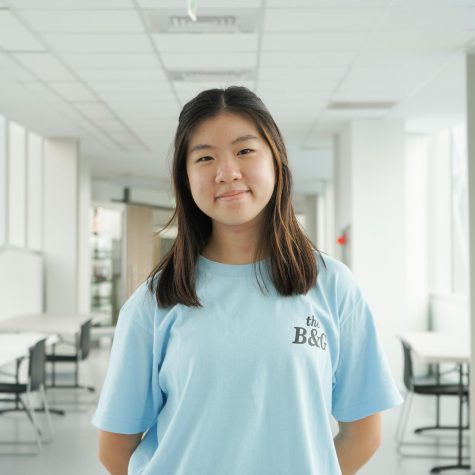 Annie H. ('23), Staff Writer
Annie is a junior at Taipei American School. She is originally from Seattle, Washington and came to Taipei in 8th grade. She is passionate about dance,...