The Human Library comes to Taipei American School
The Archivists, a new student group led by Ms. Cassy Lee, upper school librarian at Taipei American School (TAS), held a "Human Library" event. Along with Ms. Lee, members of The Archivists, Alexia V. ('22), Jonathan C. ('23), Davina J. ('25), Miya K. ('25), Althea A. ('25) and Chloe W. ('25), were all heavily involved in planning this event. 
The Human Library invited TAS faculty to share their unique stories; these faculty members would then be classified as "books" of the Human Library. "It gives a chance for participants to experience the vast diversity of the Human Library we are all a part of and build empathy and understanding as they 'read' another's story." Ms. Lee said. 
Some of the books included: "Taiwanese Born American" by Mr. Weston Cooper, middle school history teacher, "One of infinite pans" by Ms. Kendra Ing, upper school dance and performing arts teacher, "Refugee" by Ms. Katarina Safridin, lower school kindergarten teacher, and "What's in a Name" by Mr. Value Huang, the mail room clerk. The majority of the stories were centered on finding one's own identity and navigating change. 
"Being able to see [teachers] talk about their stories in a 'non-classroom' environment is definitely an awesome connection," Alexia V. ('22), one of the event organizers, said. "There are people who might have experienced the same thing you may have gone through, proving that no one is truly ever alone."
The event was held from April 14 to the 15 and students signed up for sessions based on their availability. "I felt relieved and familiar with listening to Mr. Cooper's stories. Many of his anecdotes sounded extremely similar to my own experience and it's relieving to be able to relate to someone over it," Emma S. ('24), one of the event participants, said about Mr. Cooper's presentation of his multi-cultural identity of being Taiwanese-American. 
The Blue & Gold has compiled a selection of blurbs from the "books": 
Anisha Vinod – Woman of Color Scientist
I am the granddaughter of a child-bride and the daughter of an accident.  I am also the first girl in my ancestral line who was encouraged to have dreams of a career. I will discuss my intersectional identities as a "third culture" Indian woman in an interracial relationship and the solace that studying astrophysics (and teaching science) brings me.
Chase Williams – Survivor of Conversion Therapy 
Raised in a conservative, Missouri Synod Lutheran household, I was consistently told that my true self was a sin. I will discuss my childhood, my experience with conversion therapy, and my path to self-acceptance and pride. Come learn about the power of letting your true colors shine. 
Melanie Brennand Hamre – Code Switching and Passing
I grew up in a multicultural, multiethnic, multiracial, and multilinguistic home and community where my name and appearance often obscured the many intersectional identities I hold. As a first-generation college student at a prestigious school, I continued to grapple with these, and still today must manage and address assumptions about my identity and education
"The more exposure to many perspectives we can get, the more we are able to see there are so many ways to be in the world and feel equipped to converse with people of all kinds." Ms. Lee said. 
Leave a Comment
About the Contributor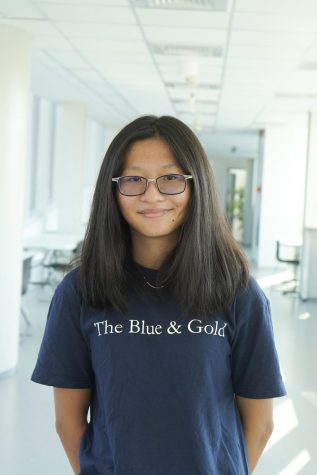 Victoria H. ('24), Online Managing Editor
Victoria is the Managing Editor of Online for The Blue & Gold. She has lived in Taiwan her entire life and has been attending TAS since lower school....