How to say goodbye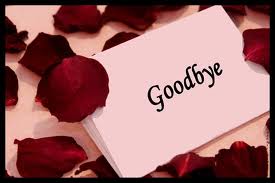 To Your Parents
They nag, they worry, they embarrass, and then they nag some more. They are your parents. And yes, they only want what's best for you. After 18 years, it's finally time to leave the comfortable, familiar life here at home and to begin your metamorphosis into a college student.
You may be excited, but your parents? When Crystal Y. (11)'s older sister left for college, her mother had a tough time dealing with it. But Crystal had already spotted some earlier signs that it would not be an easy goodbye. "Graduation day is the day parents realize it's time to let go. My mother carried packs of kleenex in her purse and wore waterproof mascara [when my sister graduated]."
Other parents find that it's hardest to adjust after their children leave. An anonymous alumni noted that after he left for college, his parents had to avoid going into his room. "Every time they went into my room, they would start feeling really depressed. So they've basically decided to leave the door [to my room] locked until I come back to visit."
Interestingly, there are some parents who barely show any traces of separation anxiety. Usually, it's the parents with more than one child. When Mallorie H.'s older brother left for college, her parents didn't have problems coping.  "I mean, they were sad. But not really sad, because they knew that he would come back to visit for holidays and breaks. Anyways, they still had me and my other brother to keep them busy."
Different parents have different reactions when it comes time for the farewell. While some burst into tears inconsolably, others seem to be completely content with letting their children go on their own merry way. Regardless, once you've graduated and transformed into a full-fledged college student, remember to call home or at least send a text every once in a while letting your parents know you're safe and sound–they'll probably appreciate it.
-Berlin C.
To Your Friends
"On the last day, we gave a 10-paged-long hand-written card to each other… just before the school bus left, we cried and hugged until the bus driver yelled at us…We even had 3 sleep-overs before I left!" For Angela H. (10), the memories of saying goodbye to best friend, Winnie, are still fresh. "Going to a new school knowing that I won't have Winnie next to me made me really sad," she says.
Saying goodbye is hard. But saying goodbye to your friends is close to impossible.
 I 've confronted the "goodbye" moment once so far, yet another one waits for me in a month. If you think that it will be easier for me this time because I've experienced it already, you're wrong.
The truth is, you don't feel the sadness crawling into you until the very last days. "When I'm with my friends, I forget about leaving TAS… Maybe it's because they have a kind of magic that makes me become my happiest," says Lynn Y. (10), "You never know how great your friends are until you have to say goodbye and leave them."
Students at international schools have more than enough experience of saying goodbye. "I keep thinking about all the great memories that I have had over the past two and a half years…The people make the place, and it is hardest to leave because of the wonderful people," Cecily H. (11) says.
There are so many ways to say goodbye. Some cry their eyes out, some keep poker faces and stay strong. And some hold big farewell parties to take the happiest, most memorable moments with them, while some just leave without saying anything. "I had a big farewell party and sleep-overs with my homies…There was no way that I was going to leave without saying goodbye!… It was one of the greatest moments in my life. Once a friend, always a friend, right?" Chalsie C. (10) says.
Time is ticking, and we're getting closer and closer to goodbyes. There's  no way to skip the moment like we do on DVD players. But remember that goodbyes do not mean losing your friends.  "TAS has been such a large part of my life for the past 11 years – I will forever remain a TAS tiger," Justin H. (10) says.
– Ally S.
To Your Sweetheart
"We both agreed that parting ways would be the happiest ending," says Justin C. (11). This fall, his significant other will be heading off to college, while Justin remains here for his senior year. With the start of a new school year, comes the end of this relationship.
Learning how to say goodbye, whether it's forever or just for a few months, to our graduating seniors is one of the most bittersweet experiences TAS students face each year. Goodbyes are already a cesspool of snotty tissues, 5 minute long hugs, and mental breakdowns at the airport. Add a romantic relationship to the mix and you've got a recipe for the greatest emotional dilemma of the century. Should you break up, or brave the distance?
Whether you decide to end things gracefully, or to live off of Skype calls for the next few months, make sure you fully understand the choice you're making. Both options require sacrifice in one way or another. Be realistic about what you want and what you're willing to give up.
For some, like Justin, it's better to end a relationship on a high note: "Long distance relationships require an incredible amount of dedication and commitment. We don't lack that; however, we're both transitioning into new walks of life. I'll still be there for her, and I wish her all the best in the future." As for others, long distance is the way to go. Another 11th-12th couple, who have asked to remain anonymous, said they plan on "toughing it out" with an abundance of Facetime and holiday time visits. "The distance isn't so big if they're in your heart," says Thomas L. (12), whose relationship of two years   will soon become trans-Atlantic.
Whatever you end up deciding on, don't forget to be grateful! Relationships are just about the coolest thing ever: there is this person out there that you think is amazing, who happens to find you just as amazing. The future isn't something we can ever predict. All we can do is learn to be thankful for the present.
"I started my relationship on borrowed time," says an anonymous senior. "I know I'm leaving her soon, and I know there's going to be heartbreak. I just don't really care."
"She's still, hands down, the best thing that's ever happened to me."
-Juliana C.
Long D- Dating Tips
1. Send them occasional care packages that include handwritten letters, instant noodles, pineapple cakes, and hi-chews.
2. Skype your significant other regularly, but make sure your webcam is placed above you, so that your double chins won't be visible in the video-call.
3. Don't forget to live your life! As tempting as it is, don't spend every waking moment waiting by the phone for them to call.
Leave a Comment