REVIEW | Melting Finger: a must visit for macaron lovers
Pastry cafe Melting Finger reinvents the meringue-based macaron by creating it into a healthier yet still delicious version of the pastry.
Upon entering the bistro, visitors are met with lively furniture. The wall and shelves are decorated with stuffed animals and toys, creating the playful aesthetic of the restaurant. Popularized through social media, the restaurant is bustling with Instagram and Snapchat enthusiasts busy photographing their macarons.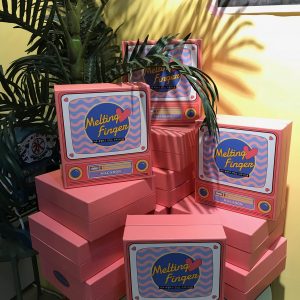 Melting Finger offers a wide variety of flavors, ranging from Oreo and salted caramel to buttered popcorn and corn cheese. The dessert shop prides itself for being a healthy alternative for sweets, as they only use one-third of the average amount of sugar in macarons in their pastries. As a growing restaurant, it is most known for their signature cookie monster and Oreo macarons.
The Cookie Monster is a blue, vanilla flavored macaron. It is one of the most popular flavors at Melting Finger because of its adorable design, as each macaron is decorated with a chocolate chip cookie between the two meringue discs. The filler within the macarons carries the heavy vanilla flavor, which is topped nicely with the chewy chocolate cookie.


Another trademark flavor Melting Finger sells is the Oreo macaron. It catches the eyes of visitors, as its meringue discs are dyed with purple and blue marble patterns. Its icing filler is sprinkled with crushed oreo bits, and a chunk of Oreo cookie can be found within the icing when you bite into it
Although Melting Finger is a relatively new restaurant, its innovative ideas on the remake of macarons has earned it a valuable reputation as a prominent dessert shop in Taipei.
Leave a Comment