With most stuck at home practicing social distancing, it is no wonder that this four-ingredient, aesthetically pleasing, easy-to-make "Dalgona", or "whipped", coffee is taking the social media world by storm. 
The drink has origins from India, Pakistan, and Macau, but was given the name "Dalgona" because of its resemblance to a Korean sponge candy with that name. 
Dalgona coffee became extremely popular when it became a trend on Tiktok with thousands of videos tagged #whippedcoffee, many of them gaining over a million views. 
As a bored, somewhat self-quarantined person myself, I decided to give this new trend a try. The recipe only requires two tablespoons of instant coffee, hot water, and sugar, then you mix it all together until it is fluffy enough, and then finally you add it to milk. I was convinced that making it would be a breeze, especially because I already had all the ingredients at home.  


I started having my doubts as soon as I poured the ingredients in and began to mix it all together using a whisk. There was simply no way the watery, mushy texture could somehow turn into the caramel colored fluffy peaks that blessed my phone screen. After about one minute of whisking, I decided to take a small shortcut and use an electric mixer; this is when the magic really started to happen.
The expected caramel hue started to come out, and the mixture continued to get thicker in texture. I was astonished, and went back to using a whisk for the final minute of mixing. I continued until the mixture only drizzled slightly when I raised the whisk, and that's when the fluffy, velvety consistency became really apparent. The whole process took about five minutes.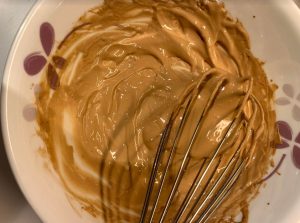 Finally, I scooped out some of the coffee cream into a glass of milk, and the result was actually quite satisfying. First I tried the drink with the cream still on top, but as a non-coffee drinker, it was too bitter for my taste. However, I will say that the cream had a great, soft texture. After I mixed the cream with the milk and tried it again, I actually enjoyed it. It tasted almost like a silky milkshake, and the milk definitely helped the sweetness of the drink come out. 
Something interesting that also happened was that I documented my process and posted it as a tiktok, which gained about 1000 views on the platform. I guess this trend really is taking off! 
I think this drink is definitely something that everyone should try- it's actually super easy to make if you have an electric mixer on hand- if not, it will just take some extra arm strength, which is actually a great workout for those who haven't been moving around much. I would definitely recommend this to all the coffee lovers out there, or even people who are just bored and want to try something new like me. This delicious treat might even become a household norm with the decreased Starbucks trips happening now!