Daylight Brunch Cafe: a photogenic cafe for a lazy Sunday Brunch
Hidden in the alleys at the Chaozhou Street intersection, Daylight Brunch cafe attracts couples, families, and students who are looking for the perfect lazy Sunday brunch. The cafe welcomes customers with a whiff of freshly baked brownies, and visually appealing brunch meals. The cafe's interiors reflect a minimalistic retro vibe, with huge sofas and garage doors as the open-floor design's statement pieces. The dishes offered were not limited to brunches though, options like "Italian Pork with Red Wine" as well as snacks like "Popcorn Chicken" were available as well.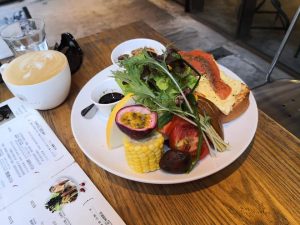 The signature dish "Smoked Salmon and Scrambled Eggs" brunch meal was not only a photogenic and eye-catching dish, but the flavor was plentiful. The brunch meal included gently seasoned salmon, as well as light and creamy scrambled eggs. The presentation of this brunch meal was a solid five out of five, with the toasted bread as the base platform of the dish, topped with eggs and salmon, and finished off with a dash of herbal seasoning on top 
The "Daylight Fresh Salad" differed from the other salads offered on the menu. Unlike the "Fresh Seafood Salad" or "Smoked Salmon Salad" which were busting in flavor for every bite. This salad took the simple, authentic approach, it consisted of freshly prepped lettuce slicked in a citrusy vinaigrette, and a generously buttered English muffin on the side. The fermented sourdough in the English muffin left a tangy aftertaste on the tongue, and when accompanied with a refreshing bite of vinaigrette lettuce, created a harmonious Sunday brunch one would absolutely savor.
Perfect for small gatherings and lazy afternoons, Daylight Brunch cafe is a perfect mix of excellent dish presentation and scrumptious brunch meals. 
Leave a Comment