Eugo: dainty pastry shop does not disappoint
Pushing open the door to Eugo Bakery, I walked into this petite and dainty pastry shop in the afternoon. My eyes were immediately drawn to a giant display case to my right, lined up with all sorts of pastries and baked goods. 
With wooden interiors, warm lighting, and amiable staff members, this shop gives off a homey atmosphere. The workers were constantly moving about behind the counter, busily attending to the customer's needs. Looking around, the whole kitchen is in sight to the left of the room, separated by a glass window. Trays of pastries can be seen cooling on the racks, filling the entire shop with the smell of freshly baked bread. 
All of the pastries in this shop are made prioritizing natural and healthy ingredients, with a huge variety of options available. New pastries are also released often, and are introduced through their Facebook page.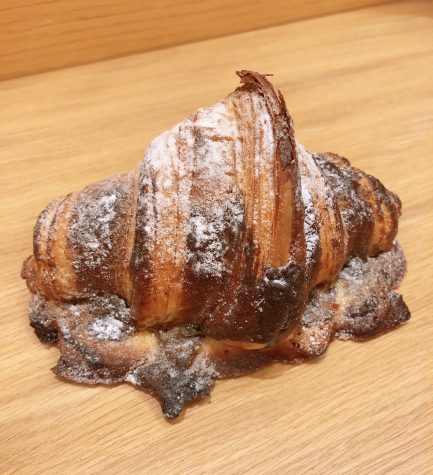 Twinings Earl Tea Croissant
Rating: 4.5/5
This Twinings Earl Tea Croissant is just like the classic, but with a twist. Sprinkled with powdered sugar, this croissant has thin crunchy layers on the outside yet is soft, airy and mellow on the inside. It has a sweet, crisp crust on the bottom with a rich taste of earl tea. It is slightly on the sweet side, but is not overwhelmingly so. I would recommend putting it in the oven for a few minutes before eating if left overnight.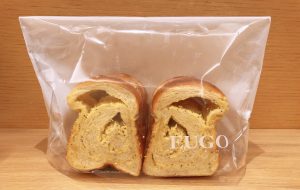 Cream cheese passion fruit toast 
Rating: 5/5
This cream cheese passion fruit toast is one of the most unique desserts in the Eugo bakery. It has a spiral of cream cheese passion fruit, which gives the toast a rich taste that is sweet yet slightly sour. The cream cheese really adds to the flavor and perfectly balances out the sourness of the passion fruit, also giving it a creamy texture. It has a slightly crunchy crust yet is soft on the inside.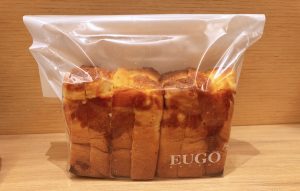 Cheese mountain toast
Rating: 4/5 
Made with generous amounts of cheese, both on top and on the inside, this toast would definitely be a must-buy for cheese lovers such as myself. The bread on the inside is soft, stuffed with small cheese chunks that melt in your mouth. It also has a light taste of pepper, adding a bit of spice to the flavor on a whole.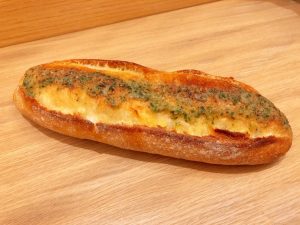 French Garlic Bread 
Rating: 5/5
This French Garlic Bread is my favorite bread to buy from Eugo. It is incredibly crunchy on the sides and very chewy in the middle. The top is covered generously with rich garlic sauce, one of the best I've tasted. Unlike usual garlic breads where they are very oily and damp, with only a light smell of garlic, this garlic bread from Eugo bakery definitely exceeds expectations. 

I would definitely recommend this bakery to anyone who is looking to try out new baked goods, as it definitely will not disappoint. Their pastries can be pre-ordered on both Facebook and Line, and the types of bread they are selling each day are also posted on their Facebook page. Their pastries taste amazing, especially coming fresh out of the oven, so I would definitely recommend pre-ordering and then picking them up when they are freshly baked. Overall, I had a really great experience at Eugo and would be purchasing from them again. 
Leave a Comment
About the Contributor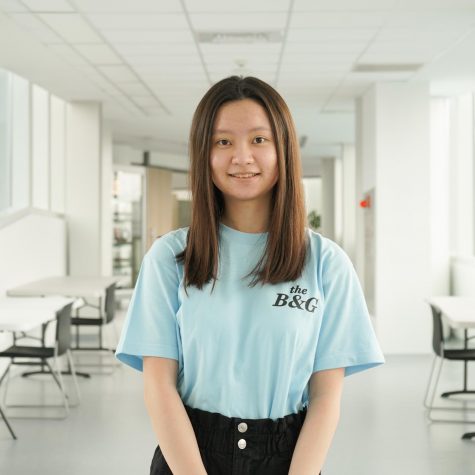 Sharon L. ('22), Managing Editor + News/Sports Section Editor
Sharon is a senior at Taipei American School and the Managing Editor and News/Sports Section Editor for The Blue & Gold. She enjoys reading fantasy...