IASAS Film team creates preliminary films in preparation for the IASAS Film Festival
The Cultural Convention for Interscholastic Association of Southeast Asian Schools (IASAS) Film, MUN and Art will be held virtually from Nov. 11 to 13. Chosen delegates representing Taipei American School (TAS) will be involved in various interactive activities with other IASAS schools.
The IASAS Film team has been working on producing preliminary films in preparation for this year's IASAS Film Festival hosted by the International School Bangkok (ISB). 12 film delegates have been selected to participate in the convention and other film students have also been taking part in creating the films.
There are a total of four teams, each producing their own three minute film. The prompt is centered around this idea of "JAI", a Thai word that means heart, and the phrase: "we feel, therefore we are."
The teams have been working since the end of September. According to Ethan G. ('22), one of the delegates, and film teacher Mr. Adrian Town (he/him), the brainstorming process was very challenging as the prompt is abstract and open for interpretation.
"Ideation is always difficult because the idea you eventually want to settle with has to be equal parts smart, relevant to the prompt, and sophisticated but doable from a technical standpoint," Ethan said.
Despite the challenges, all teams have finished shooting and are currently in the post-production process. The finished films will be shared during the convention with the other IASAS schools and delegates will also get to participate in workshops and activities.
There will also be a 12 hour film challenge in the convention, which is the most anticipated part of the convention where students have a very limited amount of time to write, shoot and edit a film.
"The film challenge is always fun, because it brings out a different energy where everyone is working together as a team toward a central goal, with great collaborative and creative spirit," Mr. Town said.
As the convention approaches, film students have dedicated a lot of their time to refining these films. "I am really proud of the students. They have worked really hard and are very excited for the opportunity to meet other film students and develop their skills," film teacher Mr. Brett Barrus (he/him) said.
Leave a Comment
About the Contributor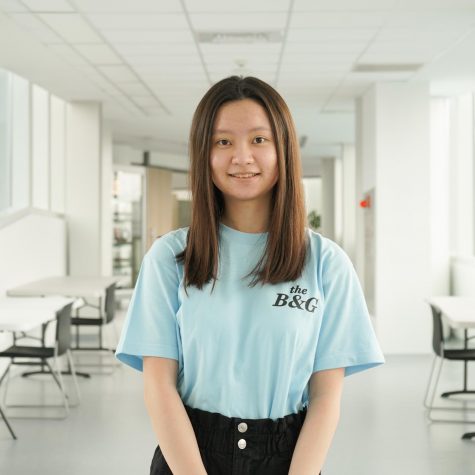 Sharon L. ('22), Managing Editor + News/Sports Section Editor
Sharon is a senior at Taipei American School and the Managing Editor and News/Sports Section Editor for The Blue & Gold. She enjoys reading fantasy...