IASAS MUN delegates prepare for the upcoming "Relief and Reconstruction" 2021 IASAS Conference
The Cultural Convention for Interscholastic Association of Southeast Asian Schools (IASAS) Film, MUN and Art will be held virtually from Nov. 11 to 13. Chosen delegates representing Taipei American School (TAS) will be involved in various interactive activities with other IASAS schools.
IASAS MUN delegates have been preparing for the upcoming conference, hosted by Singapore American School (SAS), by refining public speaking and debate skills, as well as conducting in-depth research on debate topics. Each delegate is given committee and country assignments, where they would represent the views and perspectives of a specific country towards certain social or political issues.
Since TAS is hosting the conference next year, secretariats Anita T. ('23, she/her) and Hector L. ('23, he/him) have also been meeting virtually with the SAS secretariats every week since June to assist with planning this year's conference.
The theme this year is "Relief and Reconstruction" in response to COVID-19, and the conference will include all six IASAS schools, as well as other schools from around East Asia.
"Meeting people from different areas of the world has always intrigued me and is what I look forward to the most in the upcoming convention," Anita said.
Since IASAS MUN is one of the most intense and challenging conferences that TAS participates in, all team members are well-prepared and experienced delegates who have participated in various other conferences in previous years.
"We have a very strong team this year, so the debates we are having in our practices are very lively and engaging," MUN coach Mr. Anthony Ives (he/him) said.
Practices have been going smoothly so far, but the process still comes with its challenges. "This year TAS has been allotted the delegation of USA, a delegation known to be controversial, bold, and the top delegate of the room, given the US's real positions in international politics," Hector said. Despite the challenge, Hector believes that the team can tackle this with more practice and research.
Leave a Comment
About the Contributor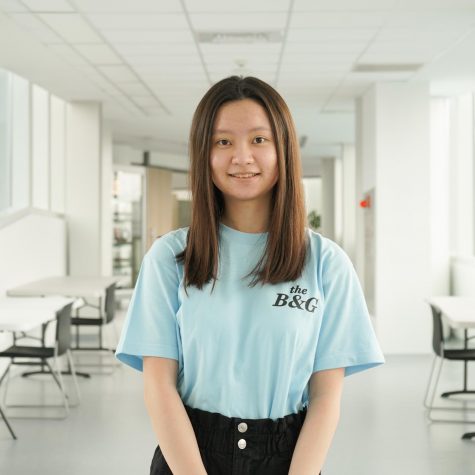 Sharon L. ('22), Managing Editor + News/Sports Section Editor
Sharon is a senior at Taipei American School and the Managing Editor and News/Sports Section Editor for The Blue & Gold. She enjoys reading fantasy...