A check-in with IASAS schools, one year later
As the Interscholastic Association of Southeast Asian Schools (IASAS) community heads into the second full year without its usual camaraderie, competition and face-to-face interactions, the COVID-19 situations at each school vary greatly. Below are the updated situations of each IASAS school, relevant as of Nov. 15, according to their official websites and cited sources. The Blue & Gold reached out to members of the IASAS community a year after this article was published in 2020. 
International School Manila (ISM) 
With Manila enduring one of the longest lockdowns, ISM has been operating online since March 13, 2020. Students currently remain home and are learning through 60-minute Zoom classes with 15-minute transition periods.
Due to government regulations, ISM has not been able to conduct any sports programs since March 2020. ISM hopes to safely reintegrate the athletics program once students return to campus. IASAS athletic tournaments have been suspended for two years now, which has disappointed many IASAS schools including ISM.
According to Mr. Mark Pekin, director of athletics at ISM, both faculty and students at ISM have been doing an amazing job maintaining through the distance learning period. "It has been a lesson in patience and perseverance in life," Mr. Pekin said.
Singapore American School (SAS)
SAS is back on campus and currently operating in-person classes, activities and athletics. The school is carefully following COVID-19 guidelines, such as wearing masks, social distancing and receiving vaccinations.
Singapore implemented a new policy that requires citizens to carry around tracking tokens indicating whether someone tested positive or negative. SAS students must scan their tokens into school everyday.
Student-athletes have faced limited freedom due to strict restrictions. Practices are limited due to capacity restrictions; students playing indoor sports are required to wear their masks unless everyone in the space is vaccinated. "Thankfully our coaches have been very enthusiastic as have the players," SAS student Henry W. ('22) said.
Additionally, music classes have also been affected by this regulation. For instance, woodwind instrument players are only allowed to perform in groups of five, and the choir is not allowed to sing. 
Students miss the connection with other IASAS schools and opportunities to compete with one another in athletics.  "I hope [IASAS hosts] get to host people and bring them to Din Tai Fung or get hosted and visit the Petronas Towers or Taipei 101," Sarah D. ('22), a SAS student, said. "Or if they are lucky they can get extra water breaks in the Jakarta haze or get driven by golf cart around Nichada." 
International School of Bangkok (ISB)
ISB students have been back on campus since Nov. 8. The school has made adjustments to ensure the safety of all students, including placing social distancing policies and physical dividers in dining locations, which have been moved to open air areas. 
Due to the increasing vaccination rates among grades 7 to 12, ISB will be allowing more extracurricular and athletic activities for students in these grades. 
Many classes at ISB are modified according to the COVID-19 restrictions. In physical education classes, students are required to wear their mask and keep a social distance of two meters. Students are physically distanced during dance and music classes, and isolated with dividers in music classes. 
Students are looking forward to when IASAS will finally be back. "I feel lucky to at least experience IASAS once and I am hoping that the travel restrictions will ease up in my senior year," ISB student Olivia B. ('23) said.
Taipei American School (TAS) 
After a sudden COVID-19 outbreak in May, TAS transitioned to online learning on May 18, 2021, two weeks before the semester ended. The class of 2021 graduated without an official graduation, with seniors receiving their high school diplomas in a TAS parking lot drive-through. After a summer of decreasing COVID-19 cases, the fall semester started with in-person learning. 
Season 1 sports started off, and continued for the majority of the season, without competitions with outside local teams. Teams would scrimmage against each other and compete in creative ways —  for instance, the varsity girl's volleyball team competed against the JV boy's volleyball team. 
Other extracurricular activities resume at TAS, with Model United Nations (MUN) and debate teams participating in online tournaments. MUN conferences, including CHEMUN held from Nov. 12 to 14, happened virtually. The annual dance production, "The Nutcracker," also resumed with in-person performances from Nov. 10 to 12, and was open to parents. 
Loosening COVID-19 restrictions later allowed for interactions with local communities. Sports teams were able to compete with other local schools, and a few clubs were able to go on outings.
Students at TAS received the first dose of the BioNTech (BNT162b2) COVID-19 vaccine on Oct. 1. Students will be receiving their second doses by the end of the semester. 
Student life resumes, but with extra safety precautions. In the Legacy Commons, plastic dividers are placed on tables students dine at. There are also restrictions placed on the number of people at each table. 
"We can't wait to offer our student-athletes the experience of healthy, respectful competition and the creation of new friendships that makes IASAS so special," Ms. Kim Kawamoto, athletics director at TAS, said. 
International School of Kuala Lumpur 
ISKL opened its first vaccination center on campus on Sept. 29. Seniors and juniors have been back on campus since early October, and the freshmen and sophomores have slowly returned over the past weeks. However, there are students who chose to stay home, who navigate digital learning through tools like Zoom. 
Students have returned to in-person learning with a new Adaptive Scheduler Program, which was implemented to cater to students' adjustments from online to in-person learning. This schedule includes a later class start time, shorter classes and an extra wellness period, known as the Panther Block, where students receive academic help, hold club meetings, attend advisory and play sports. 
Students who are learning online, at home, are taken into the schedule's consideration as well. Its shorter class periods are designed to minimize screen time for these students.
Each classroom at ISKL has sanitizing stations and socially distanced desks with glass dividers. Most club meetings are held via Zoom, and presentations previously hosted in assemblies are moved online. 
"Our student leadership team has been working hard to make this year as fun as possible with activities, alternative dress days and house challenges," Kiara T. ('22), a member of ISKL's student leadership team, said.
Jakarta International School (JIS) 
JIS has recently implemented a hybrid schedule, including in-person classes and online, asynchronous learning. As students return to campus, JIS is slowly transitioning back to in-person learning, with less activities and many safety guidelines. 
Student life is accompanied by JIS's, largely outdoor campus, which allows for socializing. "The more the students come to campus to take advantage of the hybrid classes, the more life and energy they bring to campus," Mr. Jake Stockman, the athletics coordinator at JIS, said. 
Activities are to be slowly reintegrated. Optional, student-led sports are offered throughout the week. Students in the Student Athlete Leadership Program have worked with the Athletics Office to advertise, plan and host sporting events. 
Leave a Comment
About the Contributor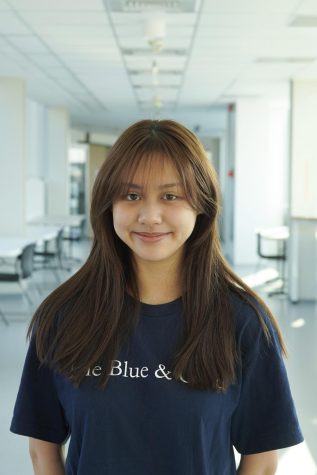 Abby C. ('24), Director of Social Media
Abby is the social media director of The Blue & Gold. She has lived in Taiwan most of her life and enjoys traveling, music, reading and playing with...