IASAS Chess Team wins gold for the fourth time
The Taipei American School (TAS) Chess Team won their fourth Interscholastic Association of Southeast Asian Schools (IASAS) Chess gold medal on Jan. 27. The win not only contributed to the team's second consecutive gold medal but also to the previous five gold, three silver and one bronze medals. 
The chess team this year consisted of Alex C. ('22, he/him), Andrew C. ('22), Ethan L. ('23, he/him), Alex Shaw Jr. ('23, he/him), Andrew L. ('24), Brendon C. ('24, he/him) and Matthew H. ('24, he/him). The team was supervised by Upper School Physics Teacher Mr. Adrian Nolin. 
The TAS Chess Team won all of the matches against The International School of Kuala Lumpur (ISKL), International School Bangkok (ISB) and other IASAS schools. 
During the process of preparing for IASAS, the chess team faced a significant challenge as websites and software needed to practice chess were blocked by the school's internet system, causing the team to play without the software. 
"I don't really think TAS really accommodates us well in terms of hosting," Andrew C. said. "TAS blocks us from a lot of the websites, which are our main resources when we practice, so we always have to find a way to play without the websites." 
Although the team met challenges, Andrew C. was thankful for the members of the team. "We really have a strong team this year, and I am really glad that we have continued that four-year streak this time," he said. 
Additionally, through this year's IASAS tournaments, Matthew H. ('24, he/him) learned to never give up despite the obstacles he faces. "During a few games throughout this year's IASAS chess, I was placed in extremely uncomfortable positions and on the brink of losing," he said. "I learned to never resign and play on even in an inferior situation, and that paid off as I was able to come back and win all the games." 
Matthew believes that his experience at the IASAS Chess tournaments this year has allowed him to grow as a chess player. "This is a first-hand experience on never backing down and persevering through difficulty, which is an important takeaway that I can benefit from one's life experiences," he said.  
Despite not having the opportunity to interact with the players due to COVID-19 restrictions and events moving online, Mr. Adrian Nolin, a science teacher and the supervisor of the team, complimented the team. "Something that I would like everyone to know about the team is that these students are very well rounded students," he said. "They are involved in many TAS activities and chess is just one of their many talents."
Despite the team winning two consecutive gold medals under the leadership of Alex and Andrew C., who are both graduating this  year, the team looks forward to recruiting new players and winning another gold medal. 
"We look forward to the upcoming underclassman," Ethan said. "Our two best players, who are both seniors, are leaving next year, so we are trying to fill the void of these seniors leaving with new players and try to defend our place for the fifth year." 
Leave a Comment
About the Contributor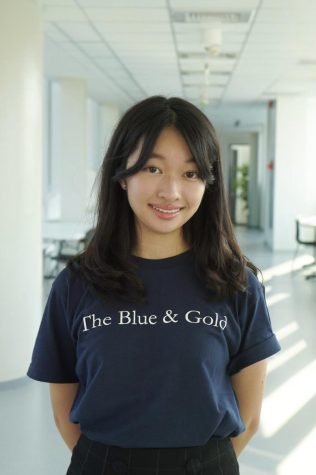 Amber W. ('23), Co-Editor-in-Chief
Amber is the co-editor-in-chief of The Blue & Gold. She has lived in Taiwan her entire life and has been at TAS since first grade. When she is not...