Cultural Convention: IASAS MUN
The Interscholastic Association of Southeast Asian Schools (IASAS) Model United Nations (MUN) Conference was held from Nov. 9 to 13. Selected delegates representing Taipei American School (TAS) traveled to International School Bangkok (ISB) for the first in-person IASAS MUN Conference after three years of not being able to travel due to COVID-19. 
"It was so exhilarating to be able to meet the people that I met last year online in person this year," James K. ('23), the vice president of the International Court of Justice (ICJ) committee, said. 
Before leaving for IASAS MUN, delegates practiced every Monday and Wednesday after school to prepare resolutions and practice resolution debates. A resolution contains all the proposed solutions to a topic that the committee is trying to address. ICJ, especially, had a grueling preparation process, where students had to prepare many documents, such as lengthy memorandums, and opening and closing statements, while preparing witnesses for examination. 
"After-school preparations for IASAS MUN are both fun and tiring," Crystal C. ('24), who represented the United Kingdom (U.K.) in the Human Rights Council (HRC), said.
On the first day of the conference, students headed to United Nations Conference Centre for an opening ceremony and a speech from one of the former prime minister of Thailand, Abhisit Vejjajiva. Students then had a chance to socialize and connect with students from other IASAS schools. 
The other days were spent debating resolutions, general assemblies and practices in the United Nations Conference Center (UNCC). 
"My favorite part about IASAS MUN is definitely meeting new people and interacting with them," Jerry L. ('24), the parliamentarian, said. "The students in other schools were all super interesting and fun to joke around with." 
During the conference, students had some difficulty communicating with the ISB team as there were some technical issues that made communication inefficient. However, the students still managed to pull through and finish the conference. 
Ultimately, this year's conference was a success. Students were all able to have fruitful debates and fun interactions with other students. 
"I'm thankful we got to travel this year," Crystal said. "We made so many memories and learned so much because of this opportunity." 
Leave a Comment
About the Contributor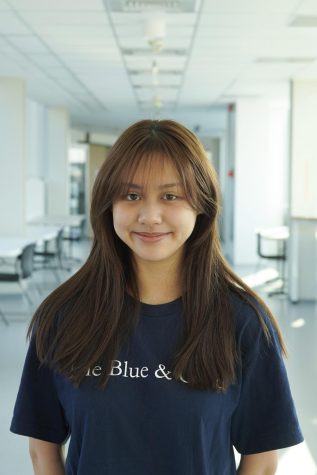 Abby C. ('24), Director of Social Media
Abby is the social media director of The Blue & Gold. She has lived in Taiwan most of her life and enjoys traveling, music, reading and playing with...