Cultural Convention: IASAS Art
After the Interscholastic Association of Southeast Asian Schools (IASAS) Film and Art Cultural Convention had been hosted virtually for the past two years, students were finally able to travel to attend the in-person event from Nov. 9 to 13.
Eight art delegates represented Taipei American School (TAS) at the International School of Manila (ISM). Delegates participated in critiques, attended workshops, visited galleries and collaborated on artwork.
After 25 pieces of artwork were picked by the art department, students were interviewed to be part of the eight selected delegates. "Just the thought of being in the same room with aspiring artists from all across South [East] Asia sharing and making art together was enough to make me want to join IASAS Art," Feronia L. ('24), a TAS art delegate, said.
In preparation for the art show in ISM, TAS delegates held a home show with the artworks that were not brought to the convention, through which they learned more about installing art and curating an exhibition. 
This year's theme for the Cultural Convention is "Pamana," which represents Filipino culture and heritage. This theme was present throughout the collaborative artworks. Students across schools collaborated to paint sculptures of carabaos, water buffalo native to the Philippines. Each school had its own carabao, representing its culture, which was brought back to the respective schools. 
Students also had the opportunity to view other artworks and receive constructive feedback from each other and professional artists. "Having critique from someone working in the professional field was really insightful and gave me guidance to one day work in the art industry as an aspiring artist," Richie H. ('23, she/her), another TAS art delegate, said. 
Delegates attended three workshops in the unconventional mediums of paper cutting, spray painting and installation art. "It introduced me to mediums and art making techniques that I would not think of myself," Richie said. "Attending these workshops and talking with the artists gave me inspiration for my upcoming [International Baccalaureate] (IB) art exhibition and allowed me to step outside of the box as an artist." 
Furthermore, students visited the Pinto Art Museum, a museum in the Philippines that showcases contemporary and native art. "The museum was designed and built in a way that interacted with nature and the outdoors; it was something I've never seen in a gallery space before," Richie said. 
Despite the packed schedule, most delegates found the experience to be fulfilling. "From traveling to staying at [ISM] till 7 p.m., it definitely was exhausting but an experience worth doing again if I could," Richie said. 
"Now, having been myself, I'd say it was a very magical experience indeed, and I would love to be part of this event again next year," Feronia said. 
Leave a Comment
About the Contributor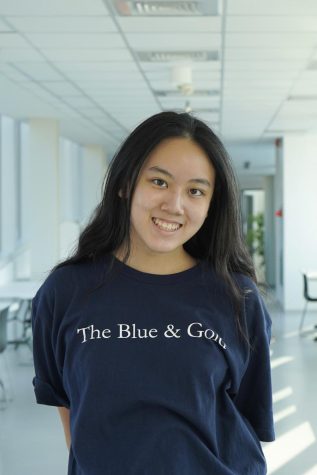 Ariel L. ('23), Print Managing Editor
Ariel is the Blue & Gold's Managing Editor of Print. She has lived in Taiwan for most of her life and spends her free time reading, sewing and watching...