Cultural Convention: IASAS Film
During the Interscholastic Association of Southeast Asian Schools (IASAS) Film and Art Cultural Convention, film delegates participated in an interscholastic film challenge over three days. Everyone was given the same theme and had a limited amount of time to create a film corresponding to the theme. 
According to Film Teacher Mr. Adrian Town, on the first day, students were introduced to the theme, which was related to the host country, the Philippines. Filipinos traditionally start preparing for Christmas months in advance, so the theme was "It's Christmas already." Students split up into eight groups, with each group including one student from each school to encourage interscholastic collaboration. 
"The film challenge was really fun because we got to work with a lot of new and different people, which was super exciting," Sofia H. ('25, she/her), a TAS film delegate, said. 
Each group was allowed to interpret the theme freely, so students traveled around the city to scout their filming locations. The rest of the pre-production process was also completed on the first day in preparation for filming, which took place on the second day. After filming, students collaborated on editing their films, which were then screened on the last day. 
Throughout the convention, students also attended workshops to learn more about the film industry and improve their filmmaking skills. They watched professional films and participated in Q&A sessions with the directors and filmmakers themselves. Other workshop topics ranged from screenwriting to how to secure funding for films. 
Attending the IASAS Cultural Convention was one of the film department's biggest hopes for this year. "I think the most important part of IASAS is the fact that delegates are meeting students from different backgrounds," Mr. Town said. As filmmaking is very collaborative, working with other students is a crucial skill to learn. "In previous years, all the students have seen each other's work and done workshops and watched films together online, but it's not really quite the same as meeting them and actually making a film together," he said.
"I'm really grateful to have had the opportunity to travel for IASAS Film after the [COVID-19] pandemic prevented us from traveling for almost three years," Sarah Y. ('23, she/her), another TAS delegate, said. "I think this IASAS experience was a great way to develop my passion for film and create bonds with new people in a creative and enjoyable environment."
"I definitely think the students were just happy to be there. The energy was very high and everyone was grateful to attend a live event," Mr. Town added.
Leave a Comment
About the Contributor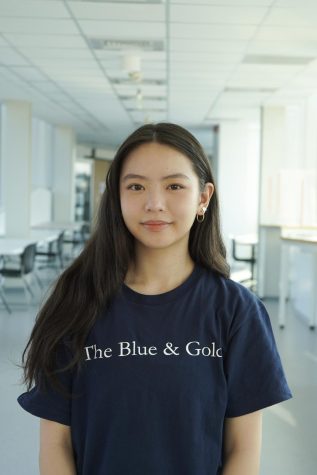 Erin W. ('25), Staff Writer
Erin is a staff writer in The Blue and Gold. She is a sophomore at TAS, and is excited to start Journalism to share writing pieces with the community that...