Taipei Metro adds new Songshan line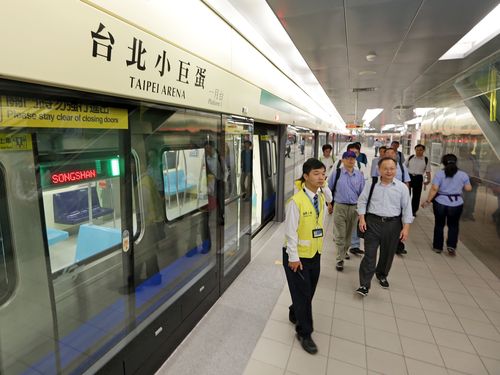 For Evonne Pei (12), taking the Metro home from school means 40 minutes of tiring and people-packed commute every day. But now, the new Songshan line will not only increase comfort but reduce travel time, fare money, and station transfers.
"The new MRT line seems great because now it's easier for me to get to certain locations such as TAS," she said.
The addition of this line will not only benefit Evonne, but also around 2 million other commuters. According to Taipei Mayor Hau Lung-Bin, with the opening of the line, passenger numbers are expected to increase by almost 200,000 people.
As the latest addition to the city's metro system, the Songshan line will officially be available from 6 AM Saturday, November 15.  Courtesy of the Taipei government, all rides on this Metro line will be free for anybody with an EasyCard for a month.
The Songshan line is a 8.5 kilometer extension to the Xindian green line and will have eight different stations:  Ximen, Beimen, Zhongshan, Songjiang Nanjing, Nanjing Fuxing, Taipei Arena, Nanjing Sanmin, and Songshan. It will only take 15 minutes to get from one end of the line to the other. All but the Taipei Arena and Nanjing Sanmin stations are transfer stations, so Mayor Hau expects the line will largely improve crowded commute. The Songshan line will also connect to Taipei Main Station and the Songshan Railroad station.
Since New Years is approaching, it's helpful to note that if you're planning to watch the annual Taipei 101 fireworks, the addition of the Songshan line and Xinyi red line means that notorious late night transportation home will be considerably faster this year.
Happy traveling.

Leave a Comment