TAS students attend journalism convention in San Francisco
Taipei American School (TAS)'s Blue & Gold, yearbook and film students attended the Journalism Education Association (JEA) and National Scholastic Press Association (NSPA) National High School Journalism Convention in San Francisco from April 20-22.
The semiannual convention, which takes place in different states every time, draws students from across the U.S. and other countries interested in newspaper, online, broadcast, yearbook and magazine. Over the course of three days, students are offered hundreds of workshop sessions led by professional and student journalists and advisers, as well as chances to receive media awards, including the Pacemaker Award, the most distinguished scholastic journalism award. Students are also able to receive critique from experienced journalism advisers to improve their publications.
The TAS convention attendees enjoyed broadening their perspectives on media through interactions with other journalistic peers.
"One of the highlights of the trip was the media swap shop as I could share and look at other people's yearbooks with other yearbook editors and members," Yearbook Editor Ariel K. ('24, she/her), said. "Not only was I able to share how my publication worked, but I was also able to gain different tips from the other yearbook editors and learn more about different layout formats."
"The workshops in the convention were really interesting because the people presenting allowed me to think about approaching film in different ways," Sydney H. ('24, she/her), a film student, said. "I enjoyed listening to people sharing their different experiences and interpretations of the media."
Not only was the trip the first one journalism and film students went on since pre-COVID-19 years, it was also the first trip to the U.S. for several students, allowing them to notice the cultural differences between Taipei and San Francisco.
"The lifestyle in San Francisco is so different to the lifestyle in Taipei as people are more relaxed," Richie H. ('23, she/her), who had never been to the U.S. before, said. "Everything is so spaced out as well, so it's less of a tight-knit community than the one people in Taipei are in."
TAS students will have the opportunity to attend the workshops and interact with other student journalists in Kansas City next spring.
"I have never been to the Midwest, so it would be really interesting to experience what it is like there," Ariel said.
Leave a Comment
About the Contributor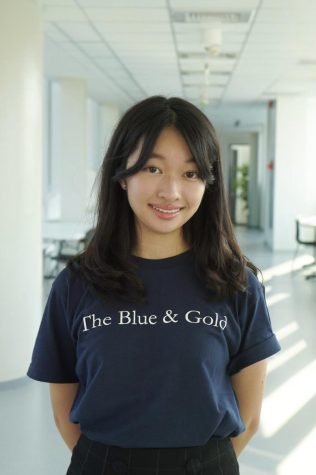 Amber W. ('23), Co-Editor-in-Chief
Amber is the co-editor-in-chief of The Blue & Gold. She has lived in Taiwan her entire life and has been at TAS since first grade. When she is not...