Gretal's Graphics: stickers and designs for refugee relief
Gretal T. ('20), an alumnus who graduated from TAS last year, recently designed her own stickers, which are inspired by Taiwanese and Japanese delicacies. Her stickers are available for purchase on her website, where she will be donating one-third of her profits to help COVID-relief funding for refugees in Malaysia. 
Gretal was inspired to launch her project because of her love for graphic design as well as her passion for the issue of refugee relief. She has led organizations such as Walk 4 Refugees throughout her high school career, and she hopes to further support this issue.
With refugees being more vulnerable now than ever due to the coronavirus, Gretal decided to take initiative in starting her project — Gretal's Graphics.
"So many other parts of the world have been experiencing great losses, and are in desperate need of resources and funds. I recognized this problem within my hometown of Malaysia as well, where my extended family have been in prolonged periods of quarantine and isolation. As I educated myself more about the issue, I realized that I wanted to try and do something," Gretal said.
After two months of rigorous planning and designing, Gretal released her products on her website. In just a week of release, she has already received over 20 orders and made around 4000 NT. Many of her friends have been very supportive, and her customers have expressed positive reactions to her products as well. "Gretal's sticker project is very impactful…it reflects the culture that we live in through the design of the stickers themselves while also helping underprivileged communities," Daniel L. ('21), one of her customers, said.
Gretal hopes to expand her project further by providing digital services to customers abroad, starting with designing custom-made photos, designs, logos, etc. She also plans on offering shipping within the US starting next semester if she starts attending college in person, as well as putting her stickers on Etsy or Red Bubble.
This project has been a brand new experience for Gretal. "It feels surreal as I never really felt that I could start anything from scratch, but now that I have done it, I'm so glad I did."
Leave a Comment
About the Contributor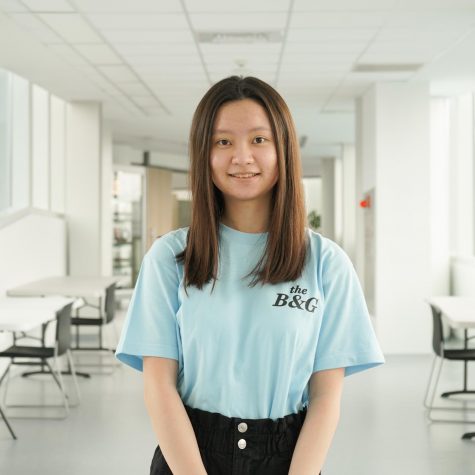 Sharon L. ('22), Managing Editor + News/Sports Section Editor
Sharon is a senior at Taipei American School and the Managing Editor and News/Sports Section Editor for The Blue & Gold. She enjoys reading fantasy...