TASMUN conference this year successfully hosted using Zoom
This year's TASMUN conference, held last Saturday on April 18, was not only moved online, but only included TAS students. Unlike previous years, where the conference was hosted in the TAS Upper School, the event was held using the video conferencing software Zoom this year.
Initially, delegates from all around the world, including Chennai, Shanghai, Hong Kong and Jeju Island were planning on attending. However, as the virus raged on, both off-island and on-island schools had to cancel due to travel restrictions and complications with Zoom licensing. 
Many of the participants were both disappointed and worried about the changes, and many adjustments had to be made to the debate procedures. Online functions in Zoom such as breakout rooms and share screens were incorporated to replace face-to-face meetings. 
Douglas L. ('21), the secretary general of the TASMUN team, feels very grateful for the dedication and flexibility shown by the student officers and delegates during these difficult times. "Our team has always been one step ahead. When we found out that some schools wouldn't be able to come, we quickly selected alternate student officers and also mapped out potential scenarios so we would not be suprised by any school dropping out," he said. 
Many of the Upper School delegates also mentored Middle School students and put in extra time to write zero-draft resolutions to help prepare MS delegates for the conference. 
Because of their work efficiency and fast thinking, the TASMUN team was able to persevere through various obstacles. Despite the unfortunate circumstances, they were able to make the best of the situation and remained positive. "We realized that this small conference would be the perfect opportunity for us to help build the next generation of MUN leaders," Douglas said, "the decision to move the conference online gave us new challenges that no other Secretariat Team has ever faced." 
Overall, many delegates felt that the conference was a success. "I expected some technical difficulties and computer lags. However, the online conference went smoother than I thought it would, which made me feel proud afterwards." Jane L. ('22), chair of the UN4MUN Commission of Population and Development (CPD), said. 
Although the TASMUN experience was very different this year compared to usual, it has definitely made the team stronger and more bonded. "I think that our leadership team has done well to host potentially the largest MUN conference online, and the only MUN conference held during this time of uncertainty," Douglas said. 
Leave a Comment
About the Contributor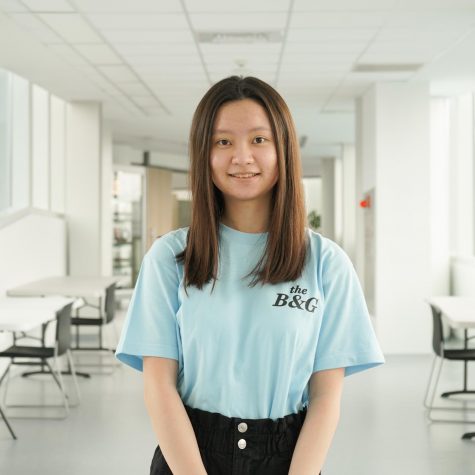 Sharon L. ('22), Managing Editor + News/Sports Section Editor
Sharon is a senior at Taipei American School and the Managing Editor and News/Sports Section Editor for The Blue & Gold. She enjoys reading fantasy...