Alumni return for dance showcase
TAS dancers recently unveiled their annual end-of-year dance showcase. In this year's showcase, guests, alumni and seniors choreographed and performed their pieces. Dancers from different grades, performed together to celebrate the end of the year.
The third performance has always allowed dancers to be creative and not to be restricted by a theme. It is also the place to showcase IB dancers' work. The seniors are simply told to create a final piece and are given full control. 
"Watching those seniors, and [their] sense of achievement is just the next best thing to graduation," upper school dance teacher, Ms. Deborah Flemming (she/her) said. 
Besides the seniors, guest choreographers are brought in to create a dance. For this showcase, four different alumni, Jonathan Kwan ('18, he/him) also known as "Jona," Iris Hsu ('13, she/her), Kendra Ing ('15, she/her), and Mr. Henry Chuang ('12, he/him) choreographed. 
"I think that because it's been a hard past two years for alumni, it'd be really nice for them to come watch the show live," Ms. Cheryl Lagerquist (she/her) also known as "Ms. Q," upper school dance teacher, said. 
One of the returning alumni, Jona, decided to come back to choreograph because he wanted to give back to the TAS dance community, as it is where his dance career started. 
"I was inspired by Ms. Q and Ms. Flemming and so many other guest artists that came through," he said. "I think it's also my obligation to give back to the students now, to come back and try my best to inspire them in any shape, way and form."
Jona's piece for this showcase was inspired by the time he first came back to Taiwan and when the COVID-19 coronavirus first hit the world. His idea was to create a dance that conveyed the sense of helplessness and desire for justice that many international students felt from the Black Lives Matter Movement and COVID-19. "I chose to do this piece because I wanted to kind of [bring back] those memories," he said.  
Another returning alumna, Iris Hsu, came back because of the COVID-19 coronavirus. She reconnected with dance teachers when they invited her back to TAS to create a piece for upper school dancers.. She choreographed for the season one dance production and also the season two varsity piece. "For the dance production, I worked with just two dancers and that was more intimate and that was a great opportunity to get to know the students," she said. "I think with the varsity dance experience because I had a much longer time with them, I was able to explore a lot more and push them a lot more."
Iris choreographed with another alumna, Kendra. They wanted to create something that was fun and joyful. The dance that she choreographed with Kendra is very upbeat, energetic and sassy. Besides choreographing for this showcase, Iris is also teaching fifth-grade dance at TAS. 
Kendra Ing is also a returning alumna. She decided to come back this year to choreograph after she graduated from college. Last summer, she reached out to Ms. Q and Ms. Flemming to help out with a dance production and was excited to see how much the program has grown and changed after she left TAS. "Just being able to come back as a mentor and work very intimately with a group of kids is very special." Kendra said.
For her individually choreographed piece, Kendra wanted the dancers to focus on enjoying the choreography and the company of their fellow dancers. "To me, the song is just a lot of fun and I just want to see [the dancers] have fun," she said.
Mr. Chuang is a former faculty member, current TAS substitute teacher and alumnus who also choreographed a piece for the showcase. He is grateful that the dance teachers reached out to him. 
For his choreography, Mr. Chuang focused on creating movements that would make a person feel stronger and at peace with themselves. 
Mr. Chuang is especially proud of all his dancers for their hard work in the piece. "I think it's extra challenging for high school dancers because it's so slow," he said. "I'm really impressed with this group of dancers because I feel like they committed fully to the feeling of the piece." 
According to one dancer, Annie Yang ('23, she/her), Mr. Chuang succeeded in his goal. "The dance gives me very zen vibes," she said. "It's very chill and relaxing"
Leave a Comment
About the Contributor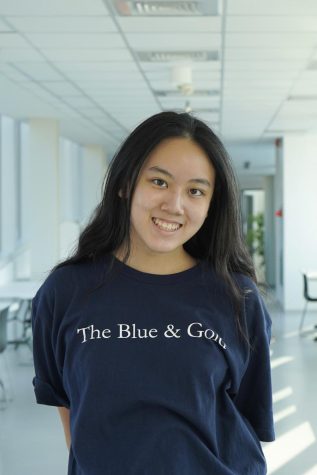 Ariel L. ('23), Print Managing Editor
Ariel is the Blue & Gold's Managing Editor of Print. She has lived in Taiwan for most of her life and spends her free time reading, sewing and watching...