TAS offers Alternative Assessment for Exams
Students noticed how some classes did not have an internal exam scheduled when exam schedules for semester two were first released on April 17. Instead, many were replaced by projects or video reports.
One of the most noticeable changes to the schedule was the absence of the English exams. English students were given projects or process essays in replacement. "Different classes have different assessments during the year, based on what is developmentally and pedagogically appropriate for the students in the class," Upper School English Department Chair Dr. Owen Lipsett (he/him) said. "Therefore, it's appropriate for culminating assessments to vary for the same reason."
The US History and European History exams were both replaced with video essays on historical figures. "Having the final assessment be something other than a traditional final exam allows a more diverse opportunity for students to demonstrate learning," Dr. Erika Soublet (she/her), upper school social studies teacher and incoming chair of the upper school social studies department, said. 
The change from a summative assessment allows students to advance other skills in the classroom environment. "Students in [US History] have already taken over 10 extensive essay-based exams during the year, in addition to a midterm exam, so they have already mastered this college-prep skill," Mr. Chris Ciambarella (he/him), upper school social studies faculty, said. 
Conversations about different final assessments have been in the works for years, however, it was only until this year that the Administrative team was able to implement it. "It's honestly something the teachers have been talking about for years," Mr. Andrew Lowman (he/him), Upper School Principal, said. "This year, there were many thoughtful questions between teachers about what was best for students and best for learning."
Many teachers also believe that this change is well-suited for students to grow. "I always come back to something I learned in a course I recently took on department leadership, which was entitled 'Empowering Students Through Assessment,'" Dr. Lipsett said. "The point of assessments is for teachers to be able to sit beside and support our students."
In the future, TAS hopes to continue offering alternative final assessments. "My hope is that it continues to provide a structured end to the school year for students, I think this is something that we will continue to look into and continue discussing," Mr. Lowman said.
Leave a Comment
About the Contributor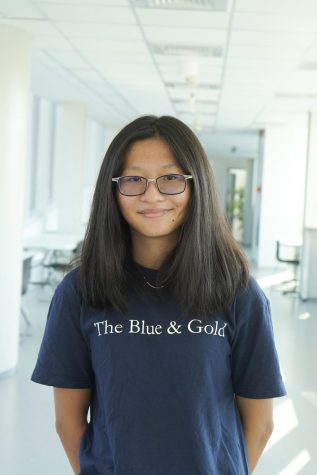 Victoria H. ('24), Online Managing Editor
Victoria is the Managing Editor of Online for The Blue & Gold. She has lived in Taiwan her entire life and has been attending TAS since lower school....