How to make the most of your advisory time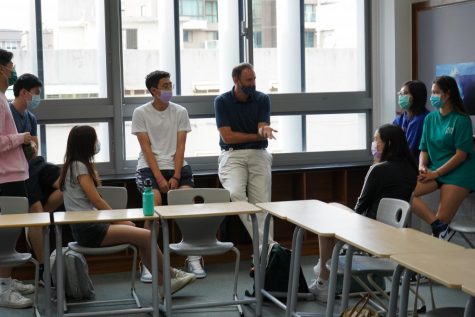 On a Wednesday morning during advisory, you are sitting at a desk, with your eyes glued to the digital clock on the wall. Everyone is waiting to burst out of the room while impatiently tapping their fingers on the table. Does this sound familiar to you? Because this is a common occurrence in the upper school advisories.
Every upper school student at Taipei American School (TAS) belongs to an advisory group. Advisory groups are intended to promote student bonding and wellbeing; however, many students are unsatisfied with the current state of advisories and would prefer to spend their time otherwise. Especially when there are administration-planned lessons or videos, students tend to disengage themselves from their advisory. "Advisory is at times worth looking forward to when there are special activities planned, but I think there are definitely ways to make it more informative and engaging for students, " Karina W. ('24, she/her) said.
Some advisers have come up with creative bonding activities to improve the current situation and foster positive relationships between their students. One of these advisers, Dr. Jonathan Hsu, upper school biology teacher and junior adviser, frequently plays board games with his students, a tradition that began in freshman year. "The atmosphere is better because everybody wants to play," Dylan L. ('23, he/him), one of Dr. Hsu's advisees and a ClassGov officer, said.
Seeing her advisees facing a similar problem of disengagement, Ms. Song Han, an upper school academic and personal counselor, also decided to improve the situation in her advisory. She often leads her students in fun games such as Hide and Seek to improve student engagement.
Some students mentioned that the most memorable moments from their advisories are when they play fun games together. If you are looking for bonding activities to create an engaging environment in your advisory, here are some activities you can try:
Werewolf is a game in which one to two players are selected as werewolves, who will be trying to eliminate other players out of the game without being convicted. The other players have different roles, but their main goal is to deduce who is the werewolf and vote them out of the game.
As mentioned earlier, another option is Hide and Seek, a classic childhood game that becomes exciting when played at school. "I am a big fan of Hide and Seek," said Karina. "Especially since it's in the upper school building, which is a different setting so it's really interesting."
During the quarantine period, advisories also discovered some online games, such as Skribbl.io, a fun online drawing game similar to Pictionary. The main goal is to be the first to guess what others are drawing.
Taboo is a game where players must guess a word through the hints given by their teammates. Players are divided into two teams, and each round both teams choose a representative. The representatives' teammates must hint to them a word without directly saying it.
One of the group favorites from Dr. Hsu's advisory is Avalon, a board game that involves deception and teamwork to successfully "complete" a series of missions.
While bonding activities are essential for keeping students engaged, another important function of bonding activities is, as the name suggests, student bonding. For Mr. Dave Montgomery (he/him), upper school English teacher and senior adviser, bonding activities are key components to forming an advisory group that is closely knitted."There was a lot of appreciation for just the downtime and they could build a good relationship over their four years together," Mr. Montgomery said.
The ultimate goal of advisory is to create a bonded group of students that feel comfortable sharing their lives with each other. "Advisory is a place where I can chat with different people I may not chat with on a daily basis," Karina said. Through activities or simple conversations, advisers will hopefully be able to foster a fun environment that students can look forward to each meeting."The purpose of advisory is to have another group of people you can rely on," Dylan said.
Leave a Comment